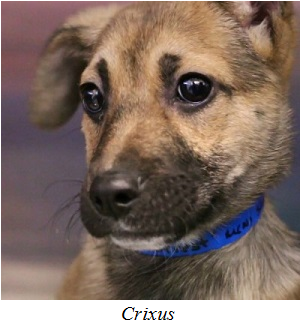 Pets for Patriots is a fantastic 501©(3) organization connecting at-risk shelter pets with United States military veterans. They've just launched their first LoveAnimals.org crowdfunding campaign. Pets for Patriots is asking for help to buy a wheelchair for a pup who was shot with a BB gun.
A six-week old puppy was found on the streets of Detroit, MI with a BB lodged near his spine. As a result of his trauma, his right hind leg was amputated and his other leg was left almost non-functional. In addition, the puppy was found to be almost blind.
However, his story improves. This little dog was honorably adopted by former U.S. Army Captain Shawn. Shawn was upset when she learned about Crixus through the news. She knew that she wanted to adopt this dog and give him a good life. While arranging the adoption through the Michigan Humane Society, Shawn learned about Pets for Patriots and how they help veterans and pets. Shawn contacted Pets for Patriots and soon was proudly bringing the puppy home and renaming him Crixus after a Gallic gladiator who fought for freedom in a slave rebellion.
Pets for Patriots wants to help Crixus have the best life possible with Shawn, so they've turned to LoveAnimals.org. Their campaign is raising funds to purchase an adjustable canine wheelchair for Crixus. Any additional money will defray the cost of his future medical or equipment needs.
This is Pets for Patriots' first LoveAnimals.org campaign. People donated more than half of the project's goal amount in the first 12 hours of the campaign. Pets for Patriots is hopeful that it will be fully funded before the campaign closes on March 7.
Halo, along with Freekibble.com, has long been a sponsor of Pets for Patriots. Beth Zimmerman, the founder and executive director of Pets for Patriots, noted "Halo has been a friend of ours since our earliest days." Halo is also proud to be the founding sponsor of LoveAnimals.org.
We're thrilled to see our friends at Pets for Patriots working with our friends at LoveAnimals.org to raise funds to help save animals. We think this is the beginning of a beautiful friendship. You can learn more about our past work with Pets for Patriots in our blog archives.