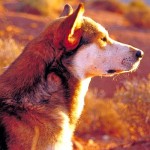 By Chris P. Janelli, Executive Director, Center for Canine Behavior Studies
Whether you fall into the 10,000 years or 30,000 years camp of how long the human-canine relationship has existed, there is near universal agreement that the man-dog relationship is the most unique in the animal kingdom.
It is quite possibly the most symbiotically beneficial one and in certain circumstances, perhaps even more beneficial than the human-to-human relationship. The brilliant scientist Stephen Hawking might even agree based upon his recent discourse on the human failing that "now threatens to destroy us all."
As Dr. Nicholas Dodman, Chief Scientific Officer at the Center for Canine Behavior Studies, says repeatedly, whether it's the bond between humans, or between humans and their companion dogs, the strength or weakness of the bond comes down to one thing, behavior. Sadly, because the bond between man and dog is behavior based, it is unacceptable behavior to the owner that is # 1 killer of dogs under the age of 3 years old.
Click here to read the complete article on Center for Canine Behavior Studies web site: