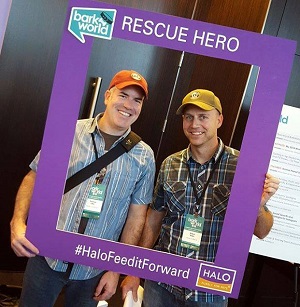 Skilled tree climbers Shaun Sears and Tom Otto, stars of Animal Planet's TreeTop Cat Rescue and founders of Cat Canopy Rescue, attended BarkWorld Expo 2015 November 5th – 7th and helped feed a shelter pet through #HaloFeeditForward.
In addition to donating a meal for every #Barkworld registered attendee, Halo Pets had another way for pet bloggers and influencers to donate more meals.
During the social media conference, registered attendees were able to feed a shelter pet by taking a picture with our Rescue Hero frame and posting it online.
Thank you Shaun and Tom for helping cats high in the trees and for your commitment to the pet community.
Were you at #Barkworld? Did you take a picture with our Rescue Hero frame? Make sure you tag yourself in our Facebook #Barkworld album.
For more information about our campaign, visit our #HaloFeeditForward page.