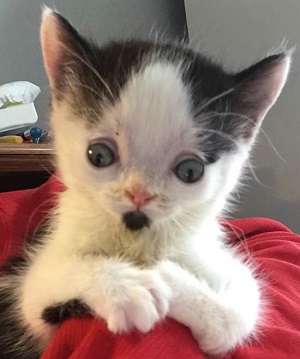 Zeke the kitten was born in Texas with severe medical issues. His future appeared grim until a woman from New Jersey decided his life was worth saving. So that's what she did.
According to Catster.com, Lisa Jones of Super Hero's Animal Hydrocephalus Society (SHAHS) heard about Zeke, who was at a rescue in Texas. Zeke has Hydrocephalus, or water on the brain as it's more commonly known.
Hydrocephalus causes extreme pressure on the brain, which can cause a host of medical issues and often death, if untreated.
SHAHS is a animal rescue society and sanctuary that specializes in Hydrocephalus and other special needs in cats so it was a perfect place for Zeke.
Thanks to the help of a kind flight attendant who accompanied him, the tiny, 14- ounce kitten traveled from Texas to New Jersey to his new home with SHAHS.