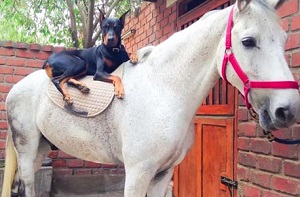 There's nothing more heartwarming than to see two species of animals bond.
And this special friendship between a white horse and a Doberman pinscher is as heartwarming as they come!
Contino, a white horse, and Boss, a Doberman, live on a farm in Peru where they spend their days playing, cuddling and eating together.
Boss even rides on Contino's back! The dog's owner, Leslie Stark, calls him "The Horse Whisperer."
Check out this adorable video montage of the two BFFs. You may have to watch it more than once!