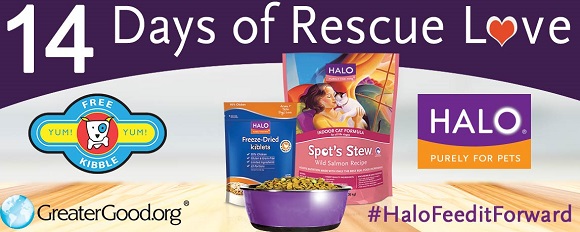 This Valentine's Day, we are launching our 14 Days of Rescue Love campaign where we will be sending Halo Spot's Stew and Halo Freeze-Dried kiblets to shelters each day from February 1 through 14. Partners Freekibble.com and GreaterGood.org are donating Halo natural pet food as part of their annual 1.5 million bowl commitment to rescue. That's a lot of rescue love!
TV personality Jackson Galaxy and America's Got Talent winners the Olate Dogs are participating. Donation locations range from Springfield, MA to Fountain Valley, CA, from St. Petersburg, FL to Snohomish, WA, from Bend, OR to Wichita, Austin, San Francisco, Phoenix, and even Vancouver – with events across the continent hosted by pet specialty stores that feature Halo natural pet food.
There are millions of homeless pets being cared for in our community shelters and here's how you can help. Show your gratitude and support by entering the "14 Days of Rescue Love" Contest. We've teamed up with Freekibble.com to provide 5,000 bowls of Halo pet food to two nominated shelters.
Simply tell us in 150 words or less why you love your rescue dog or cat, upload a photo and you can win 5,000 bowls of Halo Pets food for your favorite shelter courtesy of Freekibble.com. Hurry! Contest ends February 5, 2016. Enter today and give homeless pets some extra love!