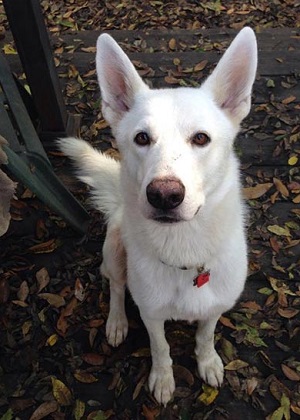 When he met his foster mom, one homeless dog knew he'd found the perfect home and was determined to stay there!
According to WomansDay.com, Memphis, Tenn. resident Rachel Kauffman had two dogs already but often cared for foster dogs while they awaited their forever home.
Kauffman spotted Hank, a white German Shepherd, at the local shelter and knew he needed help. "He looked so pitiful and scared," she told Womansday.com. "He hardly let me touch him, and you could count his ribs," she added.
She agreed to keep Hank for a few days before he went to another longer-term foster home with a friend of hers on the other side of town.
Hank was very shy, not letting Kauffman nor the other dogs in the house near him. For six days, Hank stayed with Kauffman and her dogs. When Kauffman left Hank with his long-term foster family, Hank gave her a kiss, which surprised Kauffman, because it was the only time he'd shown her affection.