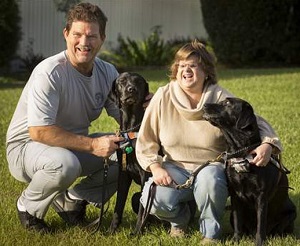 Guide dogs bring many benefits to the people they assist and, in the case of one couple, even helped make a love connection!
According to the Ledger, Mike and Eva Truelock of Winterhaven, Fla. are both legally blind.
They met at Southeastern Guide Dogs in Palmetto Fla. in 2007, where they were both training with their guide dogs.
Eva, who lived in Winterhaven, Fla., was having challenges with her current dog, Sandy, and had returned to the center for additional training.
Mike, from Dallas, was learning how to work with his first guide dog, Romeo. The two met at the center and became friends.
They exchanged numbers but, Eva told The Ledger, "I never expected him to call me." She was surprised when, two months later, he did.