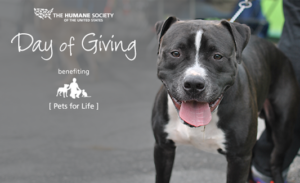 On March 31, because of you, Halo helped donors do more for the Day of Giving donation drive for the Humane Society of the United States (HSUS). The donation drive was in support of HSUS's Pets for Life program which helps families in low-income neighborhoods care for their pets.
The one-day donation drive was a huge success! By 11:31 a.m. ET, donors had given $25,000. By the end of the day, the program had received more than $380,000 along with 333 vaccination packages, 500 dewormer treatments, and 25,000 bowls of Halo pet food.
Those donations will make sure that financial difficulties don't prevent families from providing for their pets. In his blog, HSUS CEO Wayne Pacelle noted that the Pets for Life program has helped care for 109,000 pets. We can't wait to see how many more pets the program will help because of the Day of Giving.
We're honored to know that through Pets for Life, more families will be able to feed their pets Halo pet food. We've heard from many of you that your pets love Halo and are healthier and happier because of the nutritious food. When you buy Halo for your pets, you make it possible for us to help pets in need. Whether those pets are in shelters or with families struggling to make ends meet, you're the reason why we're able to donate. We can't thank you enough. As the Day of Giving showed, when animal lovers come together, we can really make a difference!