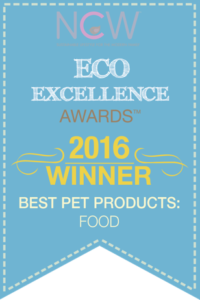 Halo, Purely for Pets is thrilled to have won the NWC Eco Excellence Award™ for best pet food!
Halo uses only WHOLE meats, never any rendered meat meals, such as chicken meal or by-product meal. WHOLE meat is more digestible, more bioavailable, and more delicious!
The Eco-Excellence Awards™ are the only one of their kind to recognize excellence in the children, adult and pet lifestyle industries that stand out for their social and environmental sustainability.
Halo would love to give a special thank you to everyone who voted for us. We appreciate your support and congratulations to all the Eco Excellence Award™ winners!