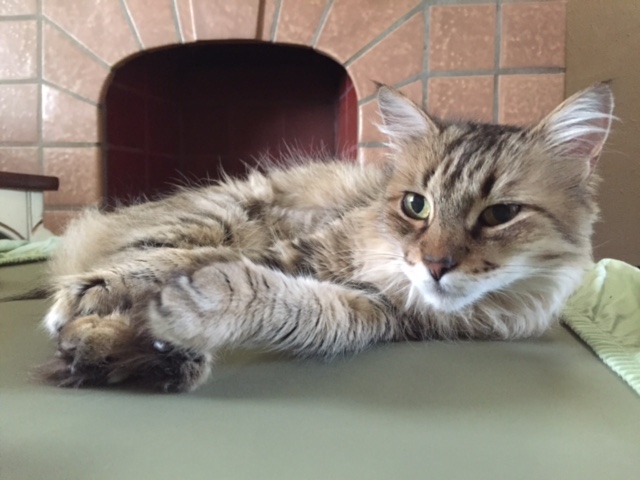 Pam Eves shared with us her story about her senior cat named, Gayia and Halo natural cat food. She says:
When I moved back to PA from Austin, TX, I came with 4 cats. 2 black siblings from North Carolina, a Burmese from Austin ( Tor) and a tortoise shell (Dot) also from Austin. 
Not long after, Gayia and her dachshund sister, Lacy, came into my life. Gayia is a stunted pixiebob cat and both are from Mississippi.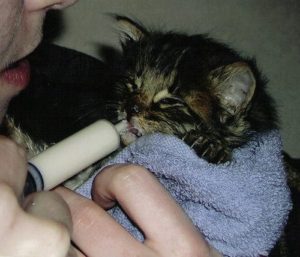 Gayia was found at the edge of the woods down in Jackson. She was, it seemed, left for dead by her mother. She was frail, tiny, and it wasn't certain she would survive. At the vet, they determined she was 3-4 months old, when she looked only to be a few weeks. She was syringe fed until she gained the strength to eat on her own. She never grew to be much more than 1 year-old size. 13 years later, Gayia, Tor and Dot still live here with Lacy the dachshund. Now they have several other siblings including Minnie the Kitty, Sansa, Aryia, Squeaker, Dusty Rose, Willow and Selene.
Early into the summer this year, I noticed that Gayia had several lumps on her abdomen. I called the vet the next day and in we went for a checkup. The vet determined it was most likely breast cancer and that we should have the surgery immediately.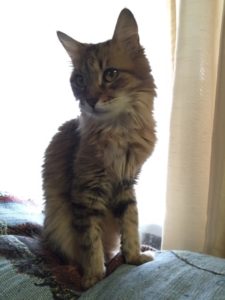 Within a week, Gayia was in surgery to remove the entire breast chain on one side. At 13, I worried that she might not make it through, but she pulled through brilliantly. She had lost over a pound prior to the surgery, weighing in at just 5.4lb. I knew I had to get the best, healthiest food for her to help her not only gain weight but that had good protein to help her heal. Without question, Halo canned food is what I got. 
Gayia has been eating Halo wet food daily, mixed with dry and topped with Halo freeze-dried chicken. She also gets the freeze-dried chicken as a snack. So far Gayia has gained a full pound since her surgery in July. She's doing wonderfully. She's fully healed, active, and you'd never know she had cancer.  
Thank you, Halo, for helping my "little old lady" get better!
Thank you Pam for letting us know about Gayia! We hope she continues to live and happy a healthy life.
To follow Gayia and the rest of her siblings, please follow @theminniekitty on Instagram.