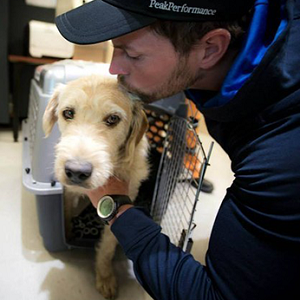 Team Peak Performance, a Swedish extreme sports racing team competing in a championship in the Ecuadorian rainforest, thought they had trained to be ready for anything. But they weren't prepared to be joined on their journey by a friendly stray dog who stole their hearts.
It all began with a meatball. According to the team's Facebook page, right before starting the most difficult part of the competition through the jungle, the teammates – Mikael, Simon, Stafan and Karen – were approached by a stray dog as they sat down for a meal. Someone tossed the dog a meatball and figured he'd be on his way.
They were wrong.
A few kilometers into their challenging trek, the team discovered the dog was following them. Despite their best efforts to dissuade him, the dog kept up with them and refused to leave. The team, realizing they couldn't shake him, named him Arthur and good naturedly allowed him to tag along.