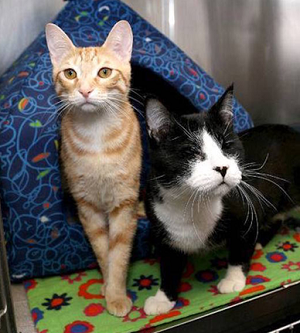 A blind kitten and his "seeing eye" cat companion will now spend their lives together, thanks to a dedicated humane society and a loving new owner.
According to the humane society's Facebook page, Ray was just six weeks old when he was taken in by Kingston Humane Society (KHS) in Kingston, Ontario.
The shelter vets discovered right away that Ray had a congenital defect in his eyes, both of which were extremely underdeveloped, severely limiting his ability to see.
Although little Ray was terrified, the staff at KHS fell in love with the tiny tuxedo and vowed to do all they could to help him.