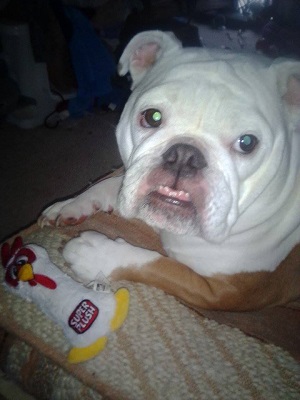 Halo Facebook Fan, Anne Tacon, shared with us the story about her female English Bulldog, Trudy, and Halo natural dog food.
"Hello, I just wanted to share with you that I have had my almost 5-year-old female English Bulldog, Trudy, on Halo Spot's Stew, Wholesome Chicken Formula for a few years now & I can't begin to tell you how many compliments I receive about her coat, her face being so pretty & clean and her eyes being so bright.
I had her on another dog food before, which she did do well on, but after the fire at their factory, I had to find a new food when I heard it would be 6 months before they were operating again.
I found out about Halo & heard Ellen owned or was a partner so I felt like I could trust the brand. Trudy loves it & the kibble is smaller so it's easier for her to eat so we never looked back!
When my pay got cut at work, I still bought it & will continue to because I want my baby to remain beautiful, playful & healthy.
Everyone who asks, I send them a picture of the bag, front & back so they can see for themselves all the great ingredients! I don't care if I have to eat Ramen Noodles, my Bullie will always get her Spot's Stew! Thank you so much for making food that we can trust!"
Very Sincerely,
Anne Tacon, Trudy's Mommy
Thank you Anne for being a loyal customer and we are so happy that Trudy is happy and healthy!