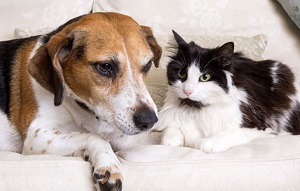 When Pete and Sharon Adney's cat Jess went missing, they were frantic. They searched for eight long weeks, going door-to-door and posting signs. Their hope was beginning to fade when one day, their dog Millie discovered the cat tangled in a barbed wire fence.
According to Caters News, Pete and Millie were out for a walk one day near their home in Birmingham, England, when Millie began barking and whining frantically. Pete, who couldn't see anything strange, tried to move the dog along but she wouldn't budge as she stared intensely at something Pete couldn't see.
"Millie was going mad barking at the wall, she must have known it was Jess. When I peered through, I saw Jess's skinny body wrapped in barbed wire," Pete told Caters.
Pete was able to get through the bushes to reach Jess and free her from the fence. She still had part of the barbed wire stuck in her so the Adneys rushed her to their veterinarian for emergency surgery.