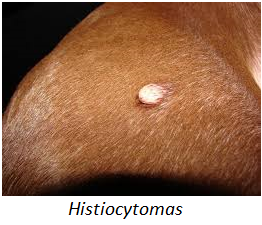 Question: I have a long-hair Doxie who is 5 years old that has developed what looks like a cluster of skin tags on one of her hips.
They do not seem to bother her much, but they become enlarged. I have put hydrocortisone cream on them and this causes them to shrink. I have not found anything in the internet that looks like what she has. Has anyone else had these issues? Thank you!
Answer: Thanks for contacting me. I agree that what you are describing sounds unusual. There are some benign skin tumors called histiocytomas (pictured here) which can come and go on their own and sometimes have the appearance of skin tags.
My advice would be to see your vet to get an idea of what it is. Even though the steroids you are using are topical, long term usage can cause skin changes and even absorption into your dog's system leading to potentially adverse side effects.
Good luck.
Dr. Donna Spector
Answers provided to pet owners by Dr. Donna Spector should be considered information and not specific advice. Answers are to be used for general information purposes only and not as a substitute for in-person evaluation or specific professional advice from your veterinarian. Communications on this site are very limited and should never be used in possible cases of emergency.
Halo, Purely for Pets will not be liable for any loss or damage caused by your reliance on any information or content contained in a blog or article post.