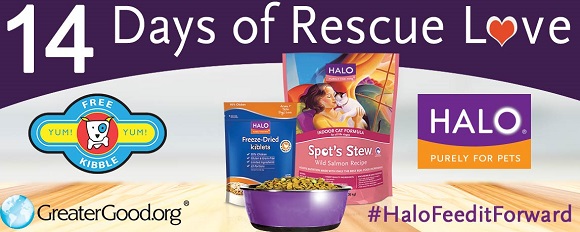 February is the month of love, and what better way to love homeless pets than to feed them nourishing, healthy food? Halo, Purely for Pets, in partnership with Freekibble.com and GreaterGood.org is doing just that during its fifth annual Kibble Drop, February 1 through February 14.
The 2016 Kibble Drop "14 Days of Rescue Love" tour will make stops across North America, delivering more than 400,000 bowls of nutritious Valentine's Day love to homeless pets. Shelter pets receiving these donations will dine on Halo's new Freeze-Dried kiblets and Halo Spot's Stew dry food, which use only real meats, like cage-free chicken, wild-caught salmon and New Zealand Lamb—without any rendered animal feed products like chicken meal or by-product meal.
"High quality food is critically important for shelter pets because it impacts their overall health," says GreaterGood.org Executive Director, Liz Baker. "A well-nourished pet is a happy pet." And no doubt, a healthy, happy pet is a more adoptable pet—the key ingredient for homeless animals everywhere.
Halo retailers have generously agreed to host "Rescue Love" events across the country, where rescues and shelters will pick up their Freekibble.com donation of Halo, and store customers can receive prizes and giveaways. "Our customers show their pets love by feeding them the very best," says Halo CEO Steve Marton. "We're thrilled to partner with our retailers across North America to show the same love to shelter pets."
And consumers can join in to help their favorite shelter or rescue, too! The "14 Days of Rescue Love" tour kicks off with a contest in which pet lovers can send in a story about their favorite adopted pet for a chance to win one of two, 5,000-bowl donations to the shelter or rescue of their choice. Winners will be announced on February 14.
Donation events throughout the 14 days will be held at Dave's Soda in Springfield, Mass.; Pet Supply in Fountain Valley, Calif.; All Paws in Wichita, Kans.; Whole Pets Market in Austin, Tex.; Bridges Pet & Water Gardens in Snohomish, Wash.; PetSmart Canada in Vancouver, B.C.; Pet Food Warehouse in St. Petersburg, Fla.; and at shelters in Pittsboro, N.C.; Bend, Oreg.; Phoenix, Ariz.; Parlier, Calif; Macon, Ga.; Briarcliff Manor, N.Y.; New York, N.Y. and, in partnership with Pet Food Express, San Francisco, Calif.
For more information on the "14 Days of Rescue Love" tour, visit: http://halopets.com/14days/