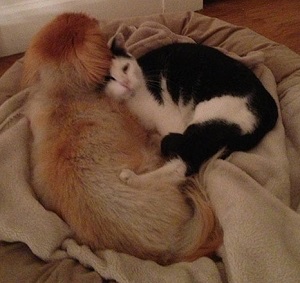 One unusual friendship in San Francisco embodies the spirit of giving, charity and friendship!
Catster community manager, Lori Malm, wrote on Catster.com about her experience with this endearingly odd feral cat she named Cow because of his black and white coat.
Cow first showed up inside Lori's house via the dog door. Cow would make his way into the house and munch on the resident dog's food. When Lori discovered this strange guest, she purchased cat food and left it outside for the little black and white cat, thinking that would make the feral kitty happy.
But Cow wasn't just interested in food. After a few weeks, Cow would come inside just to snuggle up with Lori's Basset Hound, Lucy.
Cow loved Lucy and every morning the cat would come inside, rub against Lucy, purring and meowing until the dog woke up.