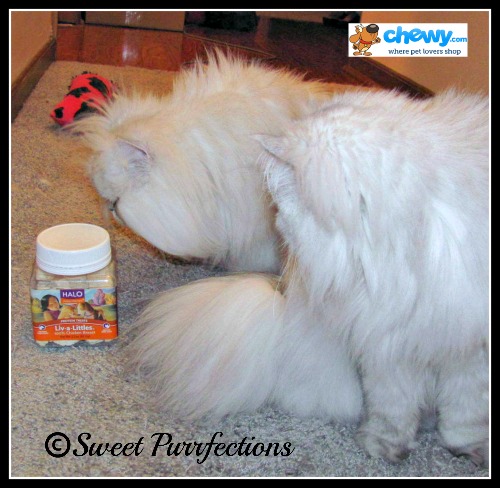 Truffle and Brulee are two Southern sweet and sassy silver Persians. They recently reviewed Halo Liv-a-Little treats courtesy of Chewy.com on their Sweet Purrfections blog. Here's what they had to say:
"The Halo Liv-a-Littles® Protein Treats are freeze-dried protein treats for both cats and dogs. They come in a plastic container with a screw-on lid. Mom Paula says this is the best part because we can't get into them as easily, even if they are knocked over on the floor.  We like the container because it keeps our treats fresh.
Truffle loves them so much that she'll choke trying to eat them so fast, so smaller pieces are safer for her. Mom Paula can make one piece last for 4-6 bites if she breaks them up small enough.  Mom Paula likes to save the left over crumbs and sprinkle them on top of wet food to encourage Brulee to eat it."
Thank you Truffle and Brulee for reviewing our natural cat treats. We hope you enjoyed them!