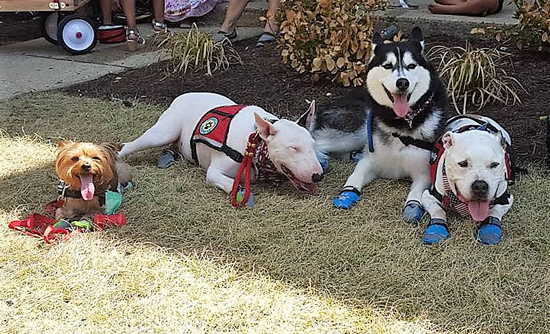 "I truly believe dogs can make a difference," said Trish Menjivar, a member of The Go Team Therapy Dogs. Her team did just that for survivors of an apartment explosion in Silver Spring, Maryland.
According to WJLA.com, an explosion rocked the Flower Branch Apartments late on the night of August 11. At least 90 people lost their homes. Those people included dozens of families. Many of the people were Hispanic or Latino, and not all spoke English.
Thankfully, the community rallied to help the affected families. People gave food, clothing, temporary housing, money, and time as translators, organizers, parental support, and resource counselors. The Go Team Therapy Dogs of Frederick also wanted to help.
Debi Haba, one of the group organizers, suggested visiting the survivors. Martha May told us that her first thoughts were "Let's go! When can we go?" and "How soon can we go?" Those sentiments were shared by Bethany Hershberger, who said that her immediate response was that she wanted to go "instantly." In the end, five dogs went with their handlers to Silver Spring.
Gary Pigott is co-owner of Sit Means Sit Frederick where the team is based. He talked with the Frederick News-Post about the team's work with people, including the survivors of the explosion. Gary said that a visit from therapy dogs "cheers them up and it lets them kind of have an outlet for stress or trauma or grief."
When the team arrived at the Flower Branch Apartments, they didn't have to wait long to start helping. "People came up and we just started talking," said Debi. She had brought her dog Buck, a white American Staffordshire. Buck has lost some use of his back legs due to a medical problem, but that doesn't stop him from providing love and comfort to people who need it. For visits, Buck likes to ride around in a red wagon so he doesn't get too tired while visiting.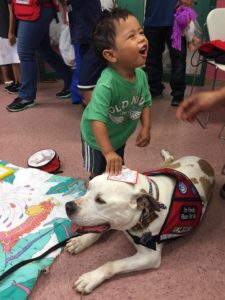 Buck, like every dog in the team, has a trading card with a photo on one side and his vital stats on the other. People who visit with the dogs collect the cards as a memento. One little boy in Silver Spring made up a game with the cards. According to the Go Team's Facebook page, the little boy matched each dog's card with the dog. Matching the right card to the right dog "made him ridiculously happy!" Putting a smile on the children's faces meant the team was accomplishing their goal.
The first part of the team's visit was next to the explosion site where families waited anxiously. While there, the dogs wore booties on their paws to protect them from broken glass and hot asphalt, according to Martha. Her dog, Zoey (who is also a blood donor!), made friends with many people. However, one little boy stood out to Martha. That little boy was so in love with Zoey that he asked his mom if he could keep her. Martha told the little boy that maybe someday in the future he could adopt a dog from a shelter who could very well be his own little Zoey.
Martha rescued Zoey when the pup was six months old. At that time, Martha says that she never could have imagined Zoey as a therapy dog. She was rambunctious and needed a lot of training. Martha said that her work with Zoey has made her believe that you should never "turn up your nose at any dog's abilities." If you want a therapy dog, she said, "rescue a dog, any kind. You never know what a dog can be." She credits mutual trust and respect for Zoey's accomplishments.
Bethany shared a similar story about Gus, who is her first dog ever. When she got him, "Gus was a terror to take anywhere." Now, after training and working closely together, Gus "likes the interactions with the people. He's as happy as can be." All the handlers we spoke with shared that their dogs know that it's time to work when they put on their vests. Although the dogs are friends and play together when not working, they know not to roughhouse when on the job.
Trish and her husband, Hugo, brought their dogs Smash and Mayhem to the visit. Despite their names, their dogs are gentle when working. In Silver Spring, they were allowed off leash, with Trish and Hugo following close behind. Mayhem, a Siberian Husky, wandered through the crowd of people before sitting next to a woman who spoke Spanish. Hugo, who is fluent in Spanish, spoke with the woman while she petted Mayhem. Trish said that it was like Mayhem "knew that woman needed him." The woman told her sad tale to Hugo, but seemed to find some comfort in petting Mayhem while she spoke.
After the visit, the dogs were all tired. Martha said that she thought it was "the most exhausted [the team had] all been" and that Zoey "napped immediately" when they got home. Smash, Mayhem, and Gus also took extra naps. Several handlers explained that it takes a lot of energy for dogs to stay focused and well-behaved. All the handlers agreed that it was worth it to them and to their dogs. Debi said that it was "very gratifying" to be able to help and Bethany said that it "felt so good to help those kids." "I think we gave the volunteers a little break," said Martha, and that "parents knew their kids were okay" and starting to smile during the visit. Some of those smiles are visible in the photos the team posted to their Instagram account.
When we asked Bethany what stuck with her most about the visit to Silver Spring, she said that she "kept thinking about those kids." Bethany continued, "with the dogs, they were happy."