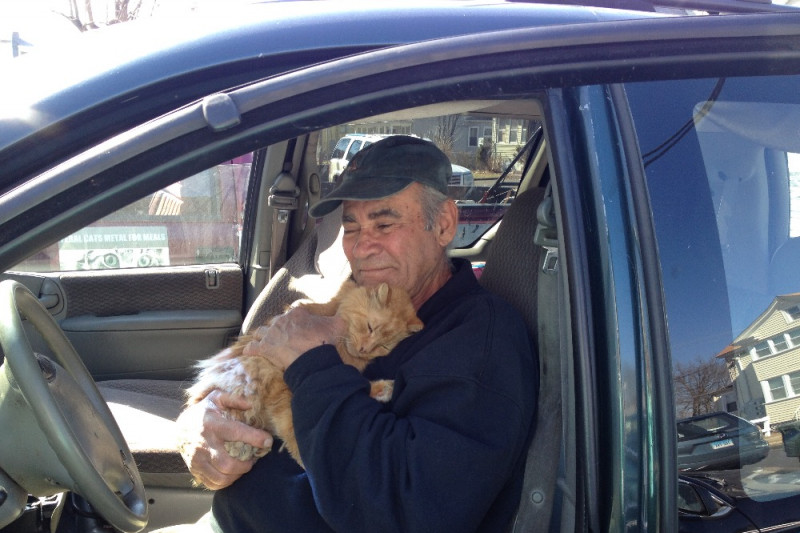 Willie Ortiz is 76 years old, but he hasn't let that keep him from making a big difference for the cats in his community. The retired gentleman has been feeding feral and stray cats in his Connecticut community every day for more than 20 years. He drives 22 miles each day in his truck to 16 different stops to distribute food paid for with his own money. To help cover the costs, Willie had been collecting and selling scrap metal. Now he has help.
In February 2016, shortly after a story about Willie ran in the Hartford Courant, Willie's friend, Kathleen Schlentz, set up a GoFundMe page, "Spay, Neuter & feed feral cats," (sic) to raise money for Willie's good works. As Willie told People, "I was praying for some help, and the help came, and I was so glad that it came." As of June 12, 2017, that help has raised more than $36,000 to help Willie buy supplies and care for community cats.
Originally the goal was only $5,000. The fundraiser was meant to honor "the work that Willie has been doing for feral and stray cats in the Hartford and East Hartford, CT areas." His friends noted that Willie "has not missed one night of feeding despite the rain, snow, freezing weather or his own health issues."
Willie was born in Puerto Rico but has made his home in East Hartford. A veteran, he has also worked as a school bus driver, mechanic, and a welder at the Hartford Hospital. In 1995 he saw a stray cat rubbing against customers at a friend's auto-body shop. "People were pushing it away, and I could see it needed help. So I said to the Lord, 'I know these cats can't understand my accent, but I need to do something," Willie told the Hartford Courant.
Willie began to feed that stray cat in addition to other cats he saw behind Hartford Hospital. When a former co-worker noticed what Willie was doing, the co-worker donated $40 to help Willie's cause. As Willie continued his work, residents and other people concerned about animals began to call Willie. Selling scrap metal to pay for the supplies wasn't always stable. The best days, he earned about $60, but a normal "good day's haul" would earn about $20. He serves shredded food to the cats because "these cats, some of them don't have any teeth," as he told the Hartford Courant. He starts his drive around 6:30 in the evening and doesn't return home until close to 10 p.m.
In addition to feeding the cats, Willie has been trapping the cats to be spayed and neutered. This practice, known as trap, neuter, return, or TNR, "reduces and stabilizes populations of community cats," according to advocacy group Alley Cat Allies. The group also states that "TNR improves the lives of cats, addresses community concerns, reduces complaints about cats, and stops the breeding cycle" improving "the co-existence between outdoor cats and humans in our shared environment." By taking care of the community cats in Hartford and East Hartford, Willie isn't just helping the cats, he's helping the people of his community, too.
Dr. William Haines, a veterinarian at Hartford Veterinary Hospital, has helped Willie almost since the beginning. Willie brings cats to Dr. Haines for spaying or neutering, vaccines and booster shots, and other basic care. While talking with the Hartford Courant, Dr. Haines compared Willie to Mother Theresa. "She couldn't do everything, but she could do something," he said, noting that he believes that Willie is "a good person doing God's work."
Willie traps the feral cats for vet visits with painless wire traps he finds online, but some of the cats are easier to capture. One, whom he calls Leo, Willie began feeding after the cat's family abandoned him when they were evicted from their home. Although Willie releases most of the cats after their vet visits, he finds forever homes for the friendlier cats who will do well in a home.
Willie has photo albums of adopted cats with their new names and addresses. They remind him of what he's accomplished. Roberta Faltus, owner of Freedom Paws Rescue, partners with Willie on a regular basis. Roberta told the Hartford Courant that she and Willie have "helped hundreds of cats find homes, but there's always more work to be done."
The thousands of dollars of donations that have poured in will help with that work. According to the first update posted to the GoFundMe, Willie spends $33 a day just to feed the cats. The money raised will help Willie pay for food, surgeries, medication, and medical care. Willie might also use some of it to replace his aging truck with something more reliable that can take him on his nightly rounds. He told People he's "looking for something cheap."
Willie also helps more than just the cats in "his" colonies. In March 2016 a group of residents from an apartment building reached out to Willie. According to an update in the GoFundMe, the residents were feeding a large colony of feral cats, but couldn't afford any veterinary costs. Willie covered the costs to spay and neuter 18 of the cats that month. During a ten-day span the following winter, Willie was able to get 27 cats spayed and neutered because of funds that had already been raised.
In February 2017 his story was shared to Reddit and a huge amount of donations came in. Kathleen wrote in a GoFundMe update that she "thought it had to be a mistake!" When she was sure it wasn't a mistake, she called Willie to let him know what had happened. He was "really excited" and relieved. For over 12 years Willie hadn't taken a day off from collecting scrap metal to fund his work. When he found out how much had been raised he asked Kathleen, "Do you think I should take a day off from scrapping?" Kathleen told him to take two days to rest!
So far the fundraiser has collected more than seven times the original goal amount. People have donated from all over the world. Some donate to honor friends who helped cats, others simply because they love cats and are moved by Willie's devotion. That money will enable Willie to help a lot of cats. Willie is thankful and considers no donation too small. He still goes out and collects scrap metal to sell to make sure that he can care for as many cats as possible. When the Hartford Courant asked Willie how long he planned to continue caring for the cats, Willie responded "I'll do it as long as I can." We think those are some lucky cats in Connecticut to have such a loving and devoted caretaker.