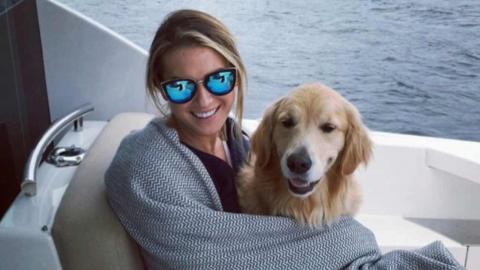 Knox, a Golden Retriever in Grand Lake, Oklahoma, deserves a hero's cape and reward after finding his canine sister who had been lost, alone and hungry, for days. According to News On 6, although rewards, boats, and drones were unsuccessful and finding Tara Vreeland's missing dog, Knox came to the rescue.
Tara has three dogs, Knox and two German Shepherds – Scarlett and Ruger. These days the three dogs hang around their neighborhood enjoying the usual doggie delights of fetch and walks, alongside rides in golf carts. In the past, when Tara was an anchor and reporter for Channel 6, Knox used to go to work with her. She said that back then Knox "used to run the roost there, used to run around on the floor."
On a walk in early September, Scarlett "just darted through the trees," according to Tara, "she was gone." Tara searched for hours, but had no luck finding her beloved dog. Tara then offered a reward, went on a boat on the lake to scan the cliffs for her dog, and asked a friend to use a drone to search for Scarlett. Nothing worked. After four days of searching, Tara began "really just trying to think outside the box," as she told News On 6.
She walked Knox to a spot near the bluffs. She noted that Knox has not been trained as a search and rescue dog, but she wanted to see what he might find. Suddenly, Knox "put his nose to the ground like Scooby Doo, and just starts sniffing around, sniffing around, sniffing around," Tara said. She added, that she "was scared for the worst." Then, she heard a dog's whimper and a collar's clink, and felt like her "heart stopped."
Scarlett had been found, trapped on a small ledge, 20 feet down from the top of the bluffs. Despite days without food or water, Scarlett was somehow okay. A neighbor climbed the 20 feet down and brought Scarlett back to Tara and hero dog Knox.
Tara tried to describe how she felt about her superhero, "I can't put into words how incredible I think he is. He's pretty cute, he's really funny, he's feisty, he can be a little bit of a brat, but he's also a hero."
Reporter and friend of Tara, Tess Maune, said, "I believe any pet owner knows that undeniable bond that you have with your dog, your cat, your rabbit, whatever it might be. When you have a pet there is a deep connection." We here at Halo understand that connection and are so glad that Tara's connection with Knox helped her find Scarlett. As Tara told Tess, "It's a happy ending when everyone was scared there wouldn't be."