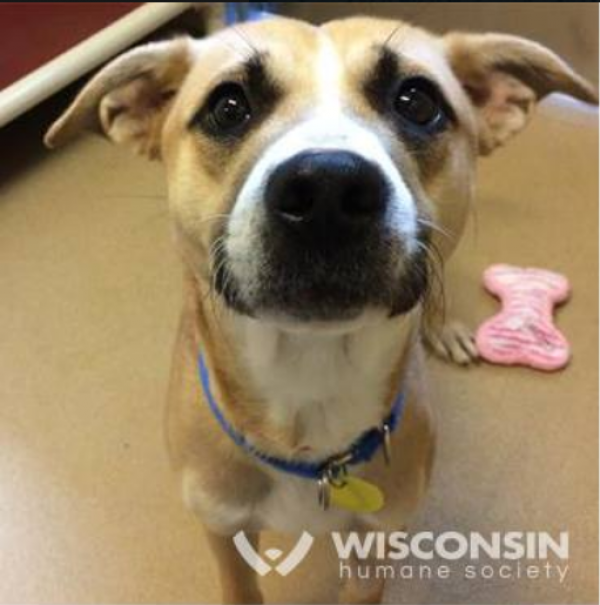 Cinderella had a pumpkin to help her find her fairytale ending. One stray dog in Oklahoma had an amazing multi-shelter transport program to help her go from a stray to an officer of the law attending a gala.
The beautiful tan and white dog was surviving on the streets before she was found and cared for by the Central Oklahoma Humane Society. That shelter, along with several others, participates in a transport program. Allie Christman, the Marketing Manager at the Wisconsin Humane Society (WHS), explained that WHS "partners with several other shelters across the Midwest and southern states in a lifesaving transport program that is growing. Sadly, many animal shelters are overcrowded and lack the infrastructure, staffing, and resources to help the volume of animals coming through their doors.…This is where we can help. We're very lucky to serve a community that so readily adopts, and the majority of animals transported to us find homes within just a day or two."
It was Allie's shelter, WHS, that took in that tan and white dog, then known as Maddie. Dezarae Jones-Hartwig, the Youth Programs Manager at WHS shared with us, "the first thing I noticed about [Maddie] was her sweet, soft eyes. Sweet is the word that was constantly used to describe her." Because Maddie was so sweet and loving, staff thought that she would be a great fit for their People & Animals Learning (PAL) Program. In the nationally-recognized program, students work in pairs with one dog over two weeks. Dogs who participate in the program, spend their nights with a foster family. As the shelter explained on their Facebook post about Maddie, "PAL teaches reward-based dog training techniques, helps prepare shelter dogs for life in a home, and aims to increase the participants' self-esteem and… skills like empathy and conflict resolution." Maddie, according to Dezarae, "was so gentle that she quickly became a group favorite."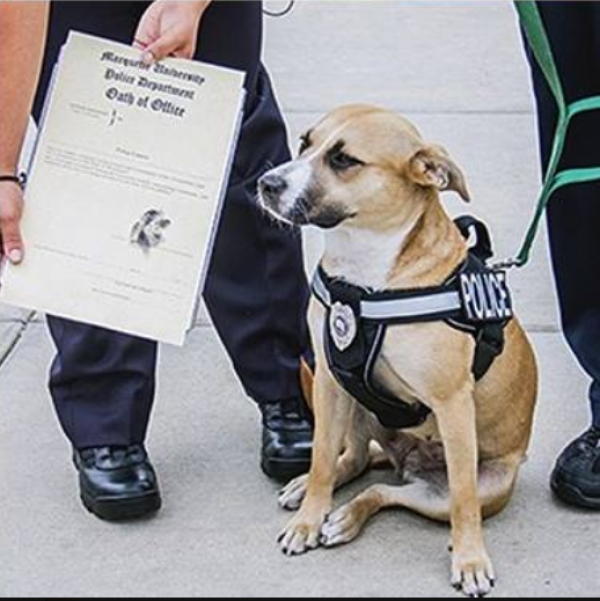 Dezarae remembers "how much both kids adored her and how she provided them with such unconditional love in return." In the program Maddie "learned and truly excelled at all the basics: sit, down, come, etc," according to Dezarae. Nora Hart, a Program Specialist at WHS, got to spend a lot of time with Maddie, too. She described Maddie as "the perfect 'office foster.' She spent her afternoons with us in our office after the PAL Program and before her foster mom picked her up. We felt like we hit the jackpot as she was such a good girl, so loving and easy."
Maddie's overnight foster mom, Carolina Seidl, worked for the Marquette University Police Department (MUPD), and she was falling in love with Maddie. As soon as Maddie graduated from the PAL Program, the Seidl family adopted her and gave the sweet dog her forever name, Nattie. While talking with coworkers about the new addition to her family, Carolina realized that Nattie might be exactly what her department needed.
On August 18, the same day that her mom became an officer for the MUPD, Nattie was sworn into the department in a videotaped ceremony. She earned her official police vest and badge that day. Nattie isn't patrolling the streets of Wisconsin looking for crimes. Instead, as MUPD's "community outreach dog" Maddie is sniffing out opportunities to help students and the community have positive experiences with MUPD, as well as to comfort crime victims as needed. As part of her community outreach duties, Nattie has an adorable Instagram account with an impressive following! Dezarae shared that during PAL "Nattie learned and truly excelled at all the basics: sit, down, come, etc. All of these will help her in her new role. Not to mention the fact that she got to meet and interact with a bunch of different people and kids during PAL, giving her some great socialization skills."
Funny enough, Nattie isn't the first dog to graduate from PAL and find a job. Allie shared the story of Delta who came to WHS in 2012 "from an overcrowded shelter in Tennessee when she was only nine months old." Like Nattie, Delta also went through PAL. Immediately after Delta graduated from PAL, a woman named Carol who had seen that Delta would soon be graduating from PAL "was first in line to adopt her. She knew Delta would be a perfect companion and potential service dog for her son, Nate, and it was a truly wonderful match," Allie told us.
"All PAL dogs get adopted into loving homes and go on to be wonderful family companions – but Nattie's story is extra special," said Laura Nowlin, the Corporate Giving Officer for WHS. She continued, "To know that Nattie is not only in a wonderful forever home, but that she's also out there serving our community and bringing joy to others daily is such a special thing!"
Allie agreed about Nattie being special. "Nattie is a true ambassador for shelter dogs everywhere and she's a walking reminder of how many incredible companions are waiting at your local shelter," she said. "I immediately followed her on Instagram (@mupdnattie) and I still get that burst of pride each time I see a new photo of her surrounded by smiling students. She brings so much joy and unity everywhere she goes and she'll never know just how incredibly valuable that is to our community," Allie added.
Allie also shared that Nattie will be attending WHS's Paws & Claws Gala on October 21 and shared that the staff "can't wait to catch up with her and hear all about life as a gainfully employed pup!" From stray to gainfully-employed and attending a fancy gala, it sounds like a happily-ever-after ending. We're thrilled that Nattie is proving how capable and amazing shelter pets can be. It's obvious from everything that the staff at WHS shared that this special dog is going to be a fantastic community outreach dog.