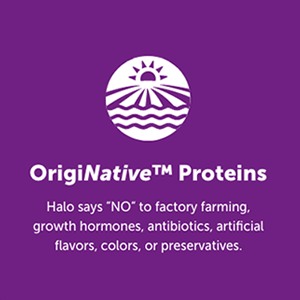 You can celebrate Thanksgiving this holiday season knowing that Halo's turkey recipes were made from humanely-sourced turkey who lived a good life.
Beyond delivering great cat food and dog food that your pet will love, Halo® is a mission-driven company, working to change the way companion animals are fed and farm animals are raised…for the better.
We reject the factory farm model of close confinement, growth hormones, antibiotics, and genetically modified feeds. Instead, we foster naturally raised animals, regenerative soils, and environmental balance.
Global Animal Partnership (GAP) Certification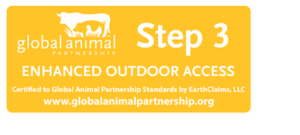 Halo's meat proteins are GAP certified. The GAP certification label verifies that the animals have been raised following comprehensive standards focused on their care and welfare.
The Global Animal Partnership is a global leader in farm animal welfare that has established a comprehensive step-by-step program for raising animals, with the goal of improving the welfare of animals in agriculture. GAP makes it easier for consumers to find meat products that reflect their values.