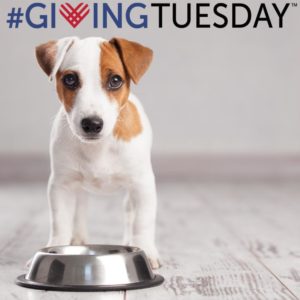 This #GivingTuesday, please help Freekibble.com, Halo  and GreaterGood.org to deliver 5 million nutritious meals to hungry shelter pets over the holidays. One of the biggest expenses for shelters and rescue groups is feeding pets in their care. As the temperature drops this holiday season, shelters that are already overcrowded incur extra expenses. When disasters strike, the need for food becomes even more dire. That's why for Giving Tuesday, GreaterGood is hosting a food drive for animals! The money raised today will provide nutritious meals to shelters and rescues across the country.
Right now, freezing temps and hurricane recovery has shelters and rescues in desperate need of food. Your gift will help bring high-quality pet food to shelters and rescue groups nationwide providing nourishment to rescue pets who need it most. The best part? Animals that are healthy, happy, and well-fed stand a much better chance of being adopted.
When you give $2.00, you will provide 80 meals for animals in shelters.
Help make this the biggest #GivingTuesday yet! Donate Today.