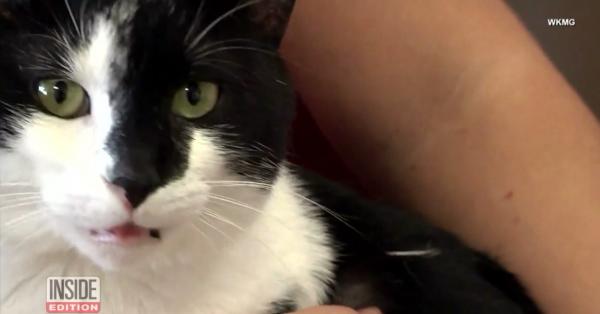 Many people are afraid of snakes. It's lucky for one family in Leesburg, Florida that their cat isn't. Without their adopted cat's courageous actions the family likely would have suffered far more than a fright from a poisonous diamondback rattlesnake who slithered into their yard.
As first reported by Inside Edition the Peterson family had been enjoying time with their cat, Oreo, in their backyard on a warm late autumn day when they decided to go inside. They had adopted Oreo a little over a year ago and the black and white feline was already a beloved member of the family. They all enjoyed spending time with Oreo, but never assumed he would be their hero.
The family's enjoyment came to a halt when they suddenly saw a diamondback rattlesnake in the yard. According to National Geographic these snakes can grow up to eight feet long. Although hospitals in areas where these rattlesnakes live are generally able to treat people who have been bit, their venom can be deadly as well as painful. 
Oreo apparently did not want to take any chances that any members of his family would be hurt that day. He leapt into action and fought off the snake. Unfortunately Oreo was not unharmed during the struggle – the snake had managed to bite Oreos leg. Jaden Peterson, age 10, told reporters that the cat's "leg was swollen…and he was bleeding." The family rushed their protector to their veterinarian's office where he was successfully treated.
Cindi Anderson, Jaden's grandmother, told reporters, "I think he was protecting the people of the home because that's just the kind of cat he is." Jaden agreed, calling Oreo "a little protector." We suspect Oreo is enjoying a lot of grateful attention and treats from the family he so bravely protected.