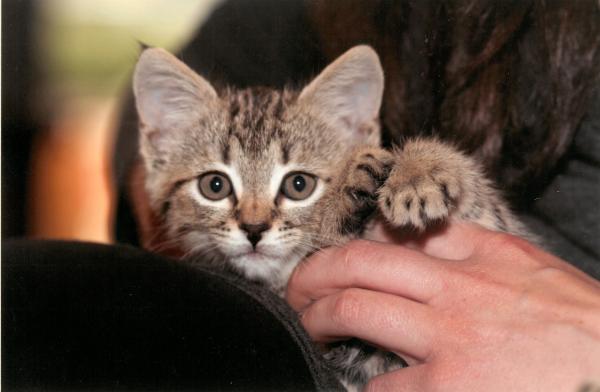 It's not uncommon for animal-loving individuals and families to move to Bend, Oregon — nicknamed Dog Town USA. However, one individual who came to Bend not only found a wonderful family and life for herself, but managed to help a lot of people along the way. That individual was a tiny kitten named Tiki.
Tiki came to the Humane Society of Central Oregon (HSCO) from the Haven Humane Society in northern California. According to Lynne Ouchida, the Community Outreach Manager for HSCO, Tiki was only 1.5 pounds and had fleas when she arrived at HSCO with a group of cats hoping to find homes in Oregon. "Tiki is one of my favorite stories in my over 20 years at HSCO," shared Lynne. According to Lynne, six-week-old Tiki was "a bit timid and nervous around people" when she met her. Thankfully, a new program at the shelter was perfect for Tiki.
A volunteer at HSCO was the Life Enrichment Manager for Aspen Ridge Memory Care at that time. Lynne told us that the volunteer "wanted to see if fostering kittens would have a positive impact on the memory care residents." Because Lynne used to be the foster program coordinator at HSCO, the foster coordinator at the time "bounced the idea off of" Lynne, as she put it. HSCO decided to do it. Lynne shared that having a vested program coordinator in place at the facility was key to making the program a success. Because the coordinator at Aspen Ridge already had a relationship with HSCO through her volunteering, that made it easier. HSCO still had all of their specific foster policies, procedures, and guidelines along with medical and behavior checks to make sure the kitten would do well at the center.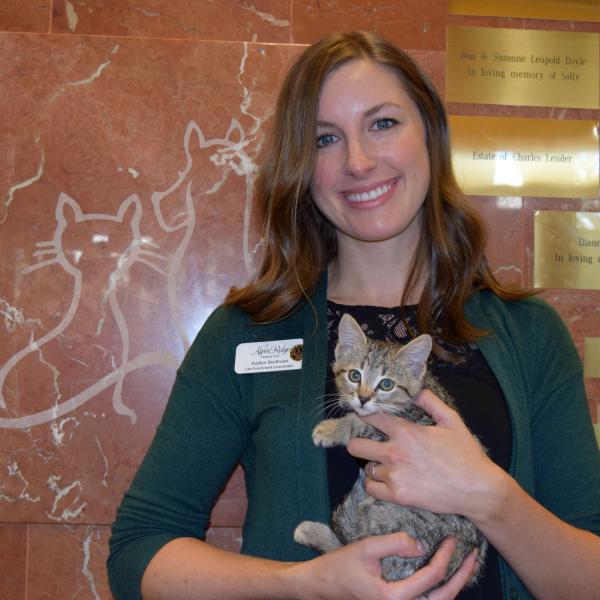 Lynne told us that because of Tiki's timidity and size, the team at HSCO wanted Tiki to go into foster care so that she could "mature a bit before returning to the shelter." She "also needed to have positive experiences with people to learn to trust and love them," continued Lynne. The team decided that Tiki would be the first kitten to head to Aspen Ridge.
At Aspen Ridge, residents cared for and played with Tiki. She, in turn, visited the residents in their rooms and even had "a social hour with residents and their guests," Lynne said. Tiki was fantastic for the residents. Lynne explained that although "the residents struggled with short-term memory," staff and families observed that the seniors' emotional bond with Tiki seemed to prompt their short-term memory! "They asked where Tiki was when not in the room, they remembered to feed and play with her, and most of all they knew they needed to snuggle and love on the kitten," said Lynne. Tiki was even featured in a video by Central Oregon Daily. Joan Wray, a resident who cared for Tiki, told Central Oregon Daily that raising Tiki "was absolutely fabulous."
The program has indeed been fabulous for both the kittens of HSCO and the residents at Aspen Ridge Memory Care. "The families of the Aspen Ridge residents loved the program and could immediately see the positive impact it had on their loved ones," said Lynne, noting that Aspen Ridge has fostered 14 kittens so far, including Tiki. Lynne revealed that the"HSCO would love to see the program continue." The staff and residents at Aspen Ridge "exceeded all expectations by providing excellent care to the kittens. Best of all," Lynne told us, "the kittens loved people and were always very playful!"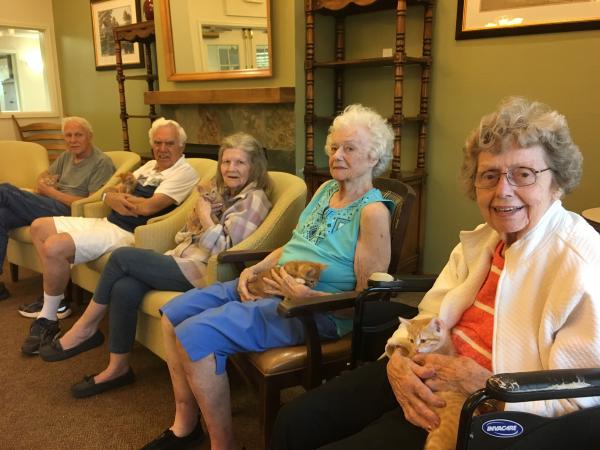 When Tiki had grown to become "a strong, loving, 2.5 pound kitten," she returned to the HSCO where she was soon adopted. The young woman who adopted Tiki "was excited to adopt her own kitten" and then came back to adopt a second kitten a month later to be Tiki's playmate and buddy! Lynne told us that some of the residents from Aspen Ridge have come to the shelter to bid farewell to their foster kittens. Although it can be "difficult for them to say goodbye," they look "forward to the next kitten" that they get to foster, she said.
Part of what enabled HSCO to care for Tiki's fleas, spay surgery, and other medical costs was a donation of Halo pet food made possible through your clicks at Freekibble.com and Freekibblekat.com. HSCO was the very first shelter to receive a donation of food from Freekibble.com when the site launched 10 years ago! Lynne explained that not only did the food provide great nutrition, but also that "the consistent, super premium diet for our shelter animals provide[d] benefits beyond the palatability of the food. Our veterinarian and staff know that if there are symptoms of illness, it is not due to a change in diet," explained Lynne. Plus, she told us, it "not only saved money on [the] cost of the food, but also enabled our staff to dedicate time to saving lives instead of purchasing and delivering" pet food. In addition to all that, the money saved means that HSCO can spend money on "diagnostic medical tests, dental work, surgeries, and time in our foster care or behavior programs." Halo is proud to have helped Tiki and the other animals at HSCO. We love that Tiki reminds us that when humans help animals in need, we not only make their lives better, but we also help ourselves in the process.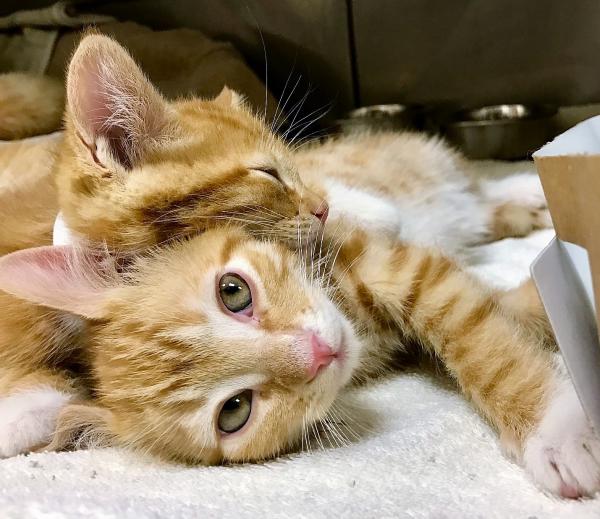 At Halo, we believe that each and every animal impacts our lives and plays a role in improving our collective well-being. We don't think that animals only help us though. We think that we all need to take care of each other – people, animals, and planet. The partnership between HSCO and Aspen Ridge Memory Care is a great example of people helping animals while those animals help right back.
Through #HaloFeedItForward, we donate a bowl of food to shelters every time you buy Halo. That's more than 1.5 million bowls of nutritious, easily-digestible Halo cat food and dog food that help nourish and transform shelter pets like Tiki to help them get their best shot at finding a forever home. We're excited to have helped HSCO and Tiki. We believe that every animal carries a halo above it and strive to earn ours every single day. It's obvious that HSCO, Tiki, and everyone at Aspen Ridge Memory Care have more than earned theirs in an amazing partnership of people and pets!