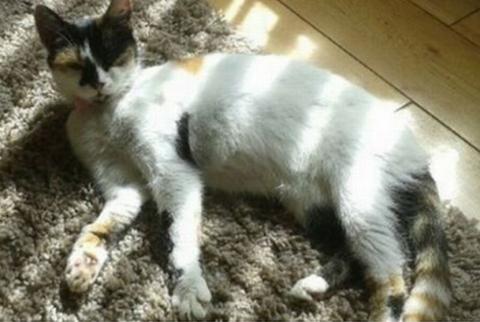 This summer, Sophie, a Welsh cat, was lucky to have been rescued by firefighters trained in the use of special pet oxygen masks.
According to Wales Online, Sophie's owner was able to escape his burning home, but he hadn't been able to grab his cat. Thankfully, while five crews of firefighters fought the flames engulfing the home in Port Talbot, Wales, they were able to find Sophie and bring her out alive. Sophie's luck continued to hold because the firefighters were able to use a special pet oxygen mask to revive Sophie.
Smokey Paws donated the pet oxygen masks to the Mid and West Wales Fire and Rescue Service in 2016. The not-for-profit organization shared Sophie's story on Facebook and noted that they "believe every pet deserves the best chance of survival."
The local RSPCA in Wales took the cat to a local veterinary practice for care. Afterwards they found Sophie a temporary home while her owner recuperates from the fire in the hospital. Her foster family updated reporters that Sophie is "doing brilliantly now and has settled in really well," adding that they were "just happy [they] were able to help."
According to the founder of Smokey Paws, Brian Lockyer, "specially designed pet oxygen masks are more effective on pets than the human masks often used." Brian told reporters that his organization was "so pleased to hear that the masks have helped this cat." We bet Sophie and her owner are pleased, too!