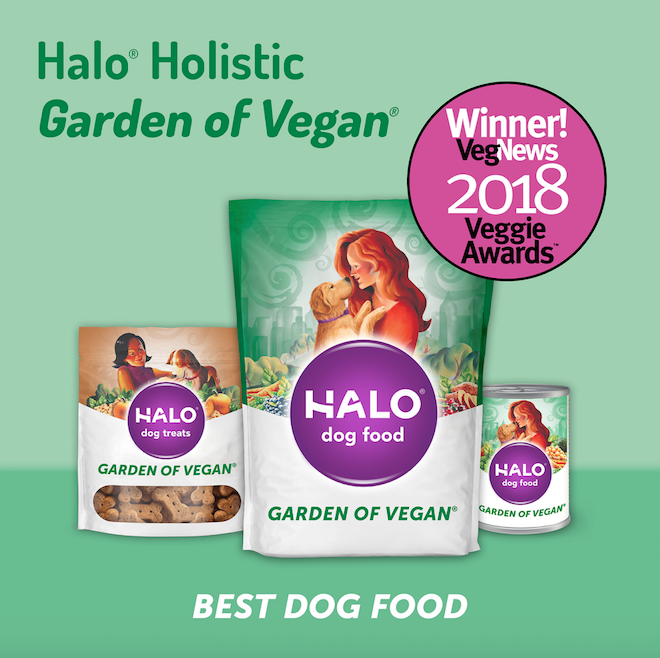 Dogs aren't the only ones going garbanzo over Halo®Garden of Vegan®. With more than 1 million votes cast by readers in the largest survey of vegan products in the world, Garden of Vegan® won the prestigious 2018 VegNews Veggie Award for "Best Dog Food," leaping ahead of the competition.
Dog moms and dads love Halo® Garden of Vegan® for dogs with protein sensitivities, if they want to include their dog in their vegan lifestyle, or if they want to combat climate change by reducing their carbon pawprint.
"We are honored to have Halo Garden of Vegan Dog Food recognized by VegNews and its highly food-conscious community," said Myron Lyskanycz, CEO for Halo. "Vegan is our fastest growing category of pet food and this award is a testament to pet parents who feed their dogs a vegan diet for its high quality whole-food ingredients and because their dogs thrive on this delicious complete and balanced food. It's also a great alternative for the many dogs with meat, dairy, corn, or wheat sensitivities."
Made with plant-based protein from whole grains, green peas and chickpeas, and non-GMO fruits and vegetables, our vegan dog food is complete and balanced, and made without any of the leading allergens, including meat, dairy, corn, or wheat. Garden of Vegan® is also made without fillers like rice.
We at Halo are thrilled to receive the most prestigious honor in the vegan industry, and delighted to be able to announce it on World Vegan Day.
Past Veggie Award winners in other categories include: Ben & Jerry's, Naked Juice, Sabra, Stella McCartney, Farm Sanctuary, Daiya, Vegenaise and LaraBar.
Learn more about Halo® Garden of Vegan® dog food and delicious vegan dog treats.