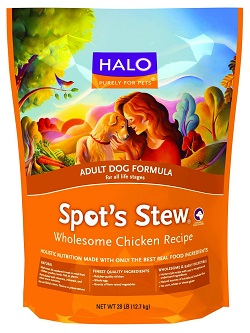 Review of Halo, Purely for Pets Spot's Stew Adult Dog Wholesome Chicken on Amazon.com.
By F. Williams on March 29, 2015
"After doing much research we opted to feed our dog Halo. We previously fed him commercial dog food found in the grocery store. I won't mention any names because it is not my intention to single out any individual commercial dog food brand.
Over time after feeding him the commercial dog we noticed his energy level start to decline. He's almost 10 years old and we thought it was a natural part of aging. It got to the point where he barely moved. He would just lie around the house. He was also having difficulty getting up. It was obvious his hind legs were hurting him.
Not wanting to drug him up we started researching healthier dog food; after all, we are what we eat. Within 3 weeks of giving him Halo his energy had perked up dramatically. He was also able to get up from a sitting or prone position much easier…"

Click here to read the complete review on Amazon.com.
Thank you F. Williams for writing a review of Halo Spot's Stew and we are so glad to hear that your dog is doing so well on Halo.