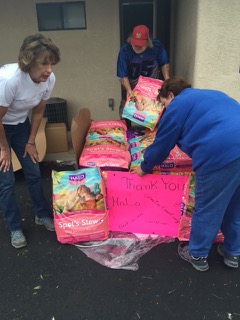 Halo, in partnership with Freekibble.com and GreaterGood.org, recently delivered 5,000 bowls of Halo Spot's Stew to the nonprofit Morning Starr Animal Sanctuary in Cornville, Arizona, helping many residents in need feed their beloved pets.
According to Fran Freedman, President and Co-founder of Morning Starr, one disabled Navy veteran is particularly grateful for the help he receives from the Sanctuary to care for his four-legged companions:
This veteran is "… a gentleman in his 70's and he was in the Navy for 5 years…He is currently living alone in Camp Verde with his 2 very large Pit Bull, Boxer mix female dogs.
He had a stroke 7 years ago and has been disabled since with difficult gait and completely limp left arm. His dogs Brandy and Khloe are his loyal companions through his hard times, and he told us how they sleep with him and at one time ran next door to tell his neighbor that he was in distress…He is always thankful for help with his dogs…We are thankful for his service.
With this grant from Halo, Greatergood.com, Freekibble.com and all those involved, we have been able to help…with feeding his dogs with high quality food! He spread the word around his neighborhood and many came in for the Free Pit Bull spay neuter program and food for their pets."
Halo is proud to help support Morning Starr's good work in their community and is thrilled to hear such heartwarming stories about the difference our pet food makes in the lives of those they serve.