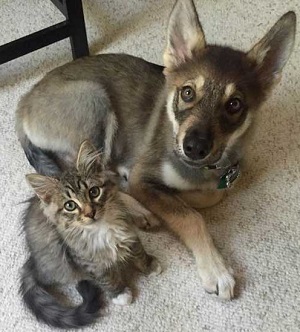 At an animal shelter, usually the human family picks out the new pet. In this case, one lucky puppy picked out the new kitten who would come and live with them!
According to a story by LoveMeow, Reddit user, jumperposse, wrote how she wanted a companion for her 10-week-old puppy named Raven. So, she went to the shelter to find one.
She figured she might as well have Raven help decide who her new feline brother or sister would be to increase the chances of a good match.
It couldn't have turned out better. There was one special kitten waiting for them who would turn out to be the perfect addition to the family.
Raven met four kittens at the shelter and she immediately went up to Woodhouse. The two instantly hit it off and Woodhouse left the shelter that day for good!
Right away, the two became inseparable, the puppy loved to nibble on Woodhouse's ears with little puppy kisses, and the kitten kept running back for more.