On March 29, 2016, in Myrtletown, California someone saw a "horribly wounded" cat on the streets. The individual captured the cat and brought him to the vet to be treated. The male tabby had extensive injuries and needed teeth removed, wounds cleaned and stitched, and antibiotics to treat an infection.
He also needed to be neutered. The cat didn't seem to have a family, so Friends for Life Animal Rescue offered to help. They named the cat Hercules and paid for his veterinary treatment. After leaving the veterinary, Hercules went to a foster home to recover.
Just days after arriving in the foster home, Hercules was "eating up a storm" and coming out to get pets from his foster, according to an update posted to his crowdfunding campaign on LoveAnimals.org.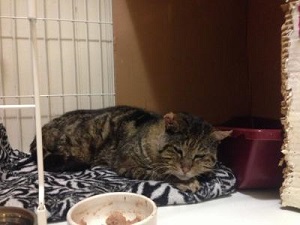 The campaign, "Hercules' Medical Fund" is looking to raise $851, the total cost of his veterinary care.
His campaign runs until May 15, 2016, and more than 65% has already been donated. We're proud to be the founding sponsor of LoveAnimals.org, helping to make this wonderful site free for nonprofits, thanks to Halo customers.
Because of you, we're able to be a part of helping Hercules and other animals. Hercules has benefited from the kindness of many people, the neighbor who took him to the veterinarian's office, his foster family, you for making our support of LoveAnimals.org possible, and all the donors helping to pay for his medical care. He's truly a lucky cat, and we're lucky to be a part of his story.