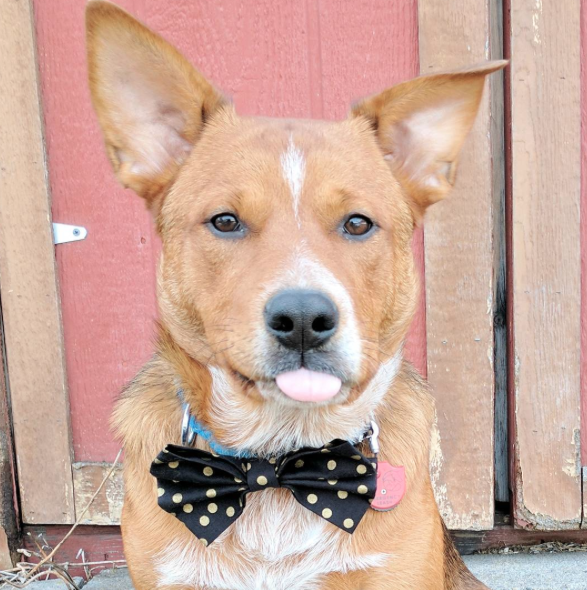 Instagrammer, Gibson the Goober, is a young pup with a growing following. This red heeler/rottweiler mix is an inspiration according to his mom, Kara. She says:
"Gibson is bright light in our lives. After we got him, I decided to make an Instagram for him, mostly as a joke, seeing as how I knew it would get a good reaction out of Alex (boyfriend). His Instagram took off! Soon, he became a little dog model for a bandana company. I loved the look of bandanas on him and then we tried our first bow tie. What a little gentleman he turned into. I learned how to make bow ties and after having so many friends ask for one I thought, maybe I should make this into a business. I have been really saddened by the Yulin Dog Meat Festival ever since I learned about it three years ago. I decided to open GstopYbowtie and donate 50% of each bow tie sold to helping rescue dogs in Yulin. Gibson was my inspiration to get an instagram, which led me to learn how to make bow ties, which is helping me save so many lives. We are so lucky to have him!"
Here's what Kara had to say about Gibson and Halo Pets:
"We received a big box of food and treats from Halo and now Gibson will only eat Halo. We have an "open bowl" policy in our house, so the dogs eat when they are hungry as opposed to having two big meals a day. When we put Halo in the bowls, Gibson ate it all in one sitting. He has never done this before. He goes even more nuts for the food toppers. I spilt a little on the floor when we went to take a photo of him with it and I thought both dogs were going to eat the carpet, that's how nuts they are about it. We tried to get them to finish off the rest of the old food but he refused to eat it. I guess once you go Halo, you don't go back!"
Thank you Kara and Gibson for sharing your story and we hope Gibson continues to live a happy and healthy life!