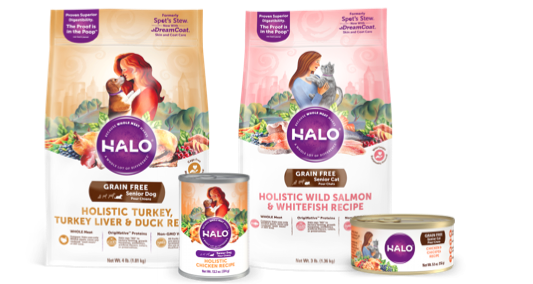 For blog readers, newsletter subscribers and Halo social media fans only, we're happy to offer these printable store coupons for Halo® products.
What's New at Halo?
We have now added even more WHOLE meat, poultry or fish. As you know, most pet foods use highly rendered "meat meal" or "poultry meal" in their kibble. "Meat meal" and "poultry meal"— the high-heat processed, dehydrated combination of remnants and scraps from slaughterhouses and fish processing factories (that are often unfit for human consumption)—are a lot less expensive than WHOLE meat.
We also think the NEW Halo will matter to you, farm animals, and the planet. We now use OrigiNative™ Proteins, and say "NO" to factory farming, growth hormones, antibiotics, artificial flavors, colors, or preservatives. And all our fruits and vegetables are now Non-GMO – sourced from farmland that prohibits the use of Genetically Modified Seeds.
Where can you use these coupons?
Remember, these coupons are only valid at stores where Halo is sold.
For Halo store locations, enter your zip/postal code here. Please call ahead to make sure your nearest retailer has what you need (if not, they can usually order it for you quickly).