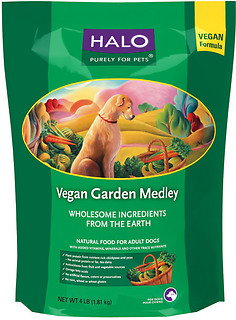 What food trend has been promoted by Sir Paul McCartney, Chef Mario Batali, and Oprah, implemented by the city of Aspen, CO, and embraced by thousands of families across America? Meatless Mondays!
Every week people are choosing to embrace delicious meatless meals for reasons including their personal health, their wallets, and even the environmental health of our planet. If it's something your family has started, have you ever thought about bringing your dog into the fun?
Halo has a special Vegan Garden Medley food for adult dogs that allows your dog to safely and healthfully join in a family-wide Meatless Monday.
The recipe includes protein from chickpeas and peas, sweet potatoes, blueberries, carrots, and cranberries, omega 3 and omega 6 fatty acids, and the same essential nutrients found in Halo foods that contain meat. All this and the recipe still has absolutely no corn, wheat, or wheat gluten.
Before you begin, here's a tip from Dr. Donna Spector: "If a dog has a sensitive stomach, start with a smaller amount of the Vegan and work up to a full Meatless Monday. Also remember, that although Meatless Monday can be great for dogs, it's not a good idea for cats. Cats are obligate carnivores and a vegan diet is not recommended for them."
If you've been wishing your dog could jump on the Meatless Monday movement, give Vegan Garden Medley a chance, and let us know what you (and your dog) think!