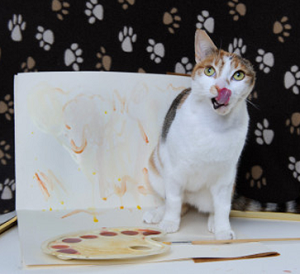 When a one-eared cat arrived at the Mayhew Animal Home, in Kensal Green, London, the staff named her Van Gogh, after the one-eared artist, Vincent Van Gogh.
But when rescue workers discovered that Van Gogh the cat has a penchant for painting it turns out the name was even more perfect for her!
According to the Telegraph, to protect her paws, Van Gogh paints with fruit juice. The staff jokes, "you could say she's going through her orange period as an artist."
Van Gogh's paintings are available for sale to benefit the Mayhew Animal Home.