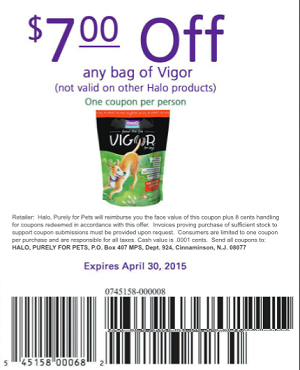 For blog readers, newsletter subscribers, Twitter followers and Facebook fans only, we're happy to offer this month's store coupons for Halo products!
Remember, these coupons are only valid at stores where Halo is sold.
For Halo store locations, enter your zip/postal code here. Products sell out fast, so please call ahead to make sure your nearest retailer has what you need (if not, they can usually order it for you quickly).
Featured Coupons
$7 off any bag of Vigor
$2 off any can of Vigor
$4 any bag of Halo Grain-Free food
$5 off any 28 lb. bag of Halo Dog Food
$3 off any Halo Grooming product
$3 off any Halo Supplement
$2.50 off any Halo chew or treat