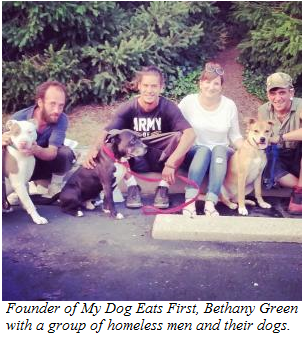 My Dog Eats First, a nonprofit organization based in Louisville, Kentucky, understands the importance of keeping pets and their people together, particularly those living on the margins of our society.
Founded by Bethany Green, its mission is "to provide free pet food, supplies, veterinary care, spay/neuter services and temporary boarding assistance (if needed) for the pets of the underserved and homeless within our community."
Halo is excited to have the opportunity to contribute to their life-saving mission by donating 2000 pounds of our pet food to the My Dog Eats First program in partnership with Freekibble.com and GreaterGood.org.
My Dog Eats First believes its program is "…ultimately saving healthy pets from unnec-essary euthanasia by keeping them with their families." And we couldn't agree more.
The bond between the homeless and their pets is often incredibly strong because many times, they only have each other to rely on. A heartwarming video created by Prank It FWD, which donates money from video views to charity, has garnered over 700,000 views with a story about a homeless man, Ricky, and his 12 year old dog, Buddy.
Ricky has just been diagnosed with terminal cancer and against his doctor's orders, dis-charges himself from the hospital to be with his faithful canine companion, Buddy.
The Prank it Forward team along with My Dog Eats First, surprise Ricky and Buddy with an apartment of their own, so they can be safe, comfortable and together for Ricky's remaining months.
Halo and Freekibble.com were proud to donate Buddy's food, and ramped it up a notch by donating a full 10,000 suppers to the My Dog Eats First organization, ensuring that other underserved and homeless people in the community have the highest quality food for their pets.
Don't miss the Halo food presentation at the end of the video to catch the extra surprise for My Dog Eats First founder, Bethany.