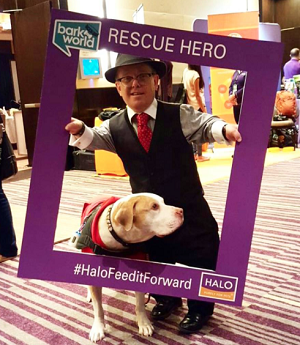 Luigi "Shorty" Rossi, star of Animal Planet's Pit Boss and founder of Shorty's Rescue, an organization set up for Bully Breed Awareness and Fighting BSL Laws, attended BarkWorld Expo 2015 this past weekend and helped feed a shelter pet through #HaloFeeditForward.
In addition to donating a meal for every #Barkworld registered attendee, Halo Pets had another way for pet bloggers and influencers to donate more meals.
During the social media conference, registered attendees were able to feed a shelter pet by taking a picture with our Rescue Hero frame and posting it online.
Were you at #Barkworld? Did you take a picture with our Rescue Hero frame? Make sure you tag yourself in our Facebook #Barkworld album.
For more information about our campaign, visit our #HaloFeeditForward page.