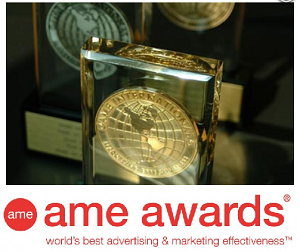 Halo, Purely for Pets is excited to make the AME Awards 2016 shortlist for its popular #HaloFeedItForward Campaign!
The campaign encourages people and their pets to work together to make sure every pet, including shelter pets, gets premium nutrition. When you buy Halo's products, Halo feeds it forward—donating 1.5 million bowls of its nutritious food each year to shelter pets awaiting their forever homes.
The #HaloFeedItForward campaign was chosen from among entrants in the category of "philanthropic appeals"—campaigns whose messaging contributed to causes, or raised social and civic awareness.
AME's Grand Jury evaluated all entries submitted from 22 countries worldwide, and Halo is proud to stand alongside the other 26 entrants who made the shortlist from the United States and from so many other countries around the world.
The International AME Awards® for the World's Best Advertising & Marketing Effectiveness? annually honors groundbreaking marketing and advertising campaigns, and Halo, along with this year's other shortlist nominees, will move on to the medal awarding round.
Halo would like to give a special shout-out to the Sapient Nitro Agency for helping to capture our campaign's story, and to congratulate the other 2016 AME Awards shortlist nominees!