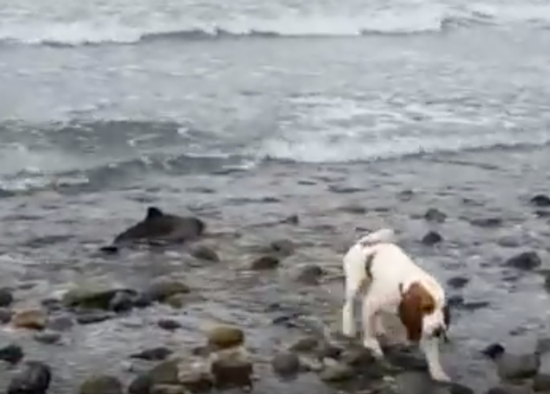 When most of us go walking along the beach with our dog, we might come across some cool sea shells or beach glass. One man came across a stranded baby dolphin!
According to NTD.tv, the unnamed man was fishing and taking photos of his dog, Leia, along a beach in North Whales on the day in question. He was near the mouth of the River Dwyfor when, as he wrote on YouTube, "I heard my dog barking at me from further down the beach….clearly she had found something!"
When the man got closer he saw that she had found a stranded baby dolphin. The shore there was rocky and the waves were crashing hard. Normally if one finds a stranded dolphin on a beach, it's recommended to call the local emergency services for help. "Unfortunately," the man wrote, he "didn't have a mobile signal" that day at the beach and "there was nobody around for miles" to help.