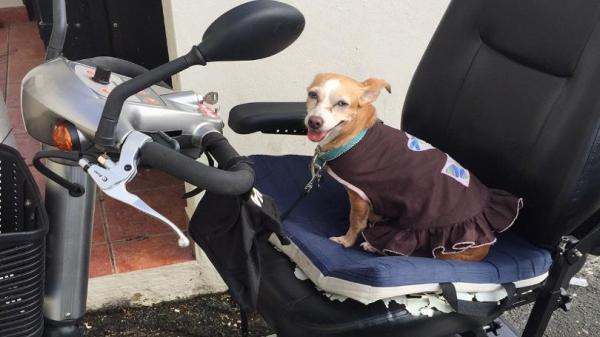 Many people and pets in Puerto Rico are still recovering from the devastation Hurricane Maria caused almost two months ago. However, heroes of both the human and animal variety are showing their true colors in the aftermath. One little dog, named Agua, was named "a four-legged hero" by the U.S. Department of the Interior on Twitter.
According to KKTV, James Casey, an employee with the U.S. Fish and Wildlife Service was working in Puerto Rico on a mission for the Federal Emergency Management Agency. James was assessing the security of a closed hospital in Humaco with about 30 others when they spotted a small dog wearing a sweater.
"We were curious as to why a dog would be wearing a sweater alone in this area," James told reporters. He added that their attention was also piqued because "the dog kept going up and down the hill."
Intrigued, James and the others decided to follow the dog. At the bottom of the hill, they found a woman trapped under a scooter. She was Agua's owner and had been attempting to reach the hospital. Due to the terrain, there was an accident and the scooter rolled on top of the woman. The woman was trapped and had prior medical issues that meant she desperately needed the team's help.
James described where they found the woman as "abandoned" and "littered with debris." He continued, "if it wasn't for this little dog, it would have been likely she would not have been found and possibly perished."
Because Agua not only caught the team's attention, but led them to her owner, they were able to assist before it was too late. According to the Department of the Interior, the team radioed another official who was able to coordinate with hospital doctors so the team could immediately respond to the woman's needs. Another member of the team was able to grab an ambulance to transport the woman to an emergency department. That evening, after the owner had been treated, Agua was able to be reunited with the woman she had saved.
James told reporters that the team was impressed by the dog's devotion and quick actions. He said, "We all voted Agua the dog the hero of our mission." Maybe soon Agua will have a cape to go with her sweater!