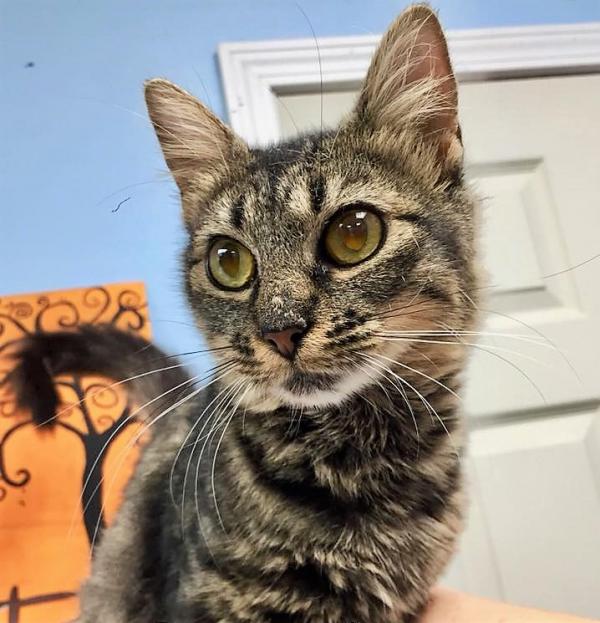 Imagine being a malnourished, dangerously underweight mother with five babies to feed. Now, imagine taking in two more orphaned babies to feed and raise as your own. Could you do it? Starlyte, an extra-special cat in McComb, Mississippi, did just that – and you helped her!
Shelter Director, Michelle Lombas told Halo, "Starlyte was turned in to [McComb Animal Shelter] with five nursing kittens." Then two three-week-old kittens showed up without a mother cat. However, Michelle told Halo that Starlyte "was such a good mother that she took in…[the] orphaned kittens to be her own." Despite being stressed herself and already having five kittens to care for, Starlyte knew what every good parent does – that there is always more love to go around. Jack and Jill, the two orphans, joined Moon Beam, Comet, Astrid, Asteroid, and Milky Way and all the kittens became Starlyte's.
There was a problem though. A decrease in appetite is a common reaction to stress for many cats. While such a lack can be dangerous for any cat if not treated, it is especially dangerous for a cat already "very malnourished and underweight" which Michelle told us Starlyte was! Plus, Starlyte needed good nutrition to be able to care for and adequately nurse the seven kittens relying on her. Unfortunately, whether from the stress of finding herself in the shelter or something else, Starlyte, in Michelle's words was "very finicky with what she would eat."
Although Michelle describes McComb Animal Shelter as "extremely small" and without "a lot of resources," they clearly have a lot of heart and determination. The shelter tried multiple variations to tempt Starlyte to eat. Thankfully, because of people like you who click on Freekibble.com and Freekibblekat.com, McComb Shelter had received a donation of 10,000 bowls of nutritious Halo pet food. Michelle shared that the winning combination relied on that donation. Starlyte, Michelle wrote, "finally responded to the Halo cat food with Halo Salmon and Turkey treats on top." In fact, Starlyte enjoyed the food so much that she put on some much-needed healthy weight! Because McComb Animal Shelter didn't give up on finding healthy food that Starlyte would enjoy, Starlyte was able to nurse and raise all the kittens until it was time to safely wean and separate them. Michelle shared that Starlyte "was such a loving mom! Every time we had ANY kitten out in the cat room…she would stop and come to the front of the cage with heightened alertness as [though] to say, 'you better be taking good care of my babies! I'm watching you,' regardless of if they were her kittens."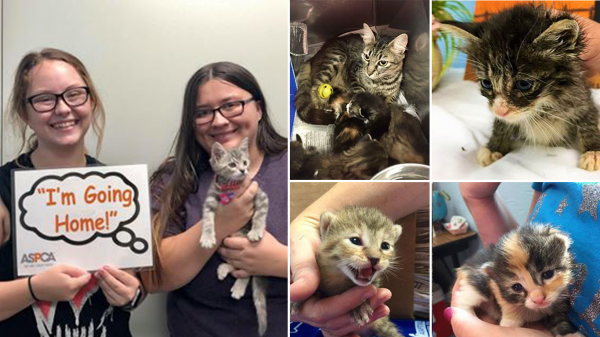 All seven of the kittens have since found adoptive homes. According to Michelle, Starlyte, the hero mom, is still looking. However, the McComb Animal Shelter posted on Facebook that Starlyte and several other cats are "waiting patiently for their forever families." Michelle told us that Starlyte is very loving, calm, and quiet" although "she does love to play." All those qualities seem like Starlyte would make just as amazing a pet as she was a mother.
We at Halo are so grateful that, because of you, our food was able to help Starlyte not only nurse the kittens who needed her, but also bring out Starlyte's inner beauty so her outer beauty can catch the eye of an amazing adopter. McComb Animal Shelter asked for the public to help Starlyte and their other lovely animals find homes for the holidays. We hope some lucky family hears Starlyte's story and rewards our heroine for her amazing mothering by giving her just such a home.