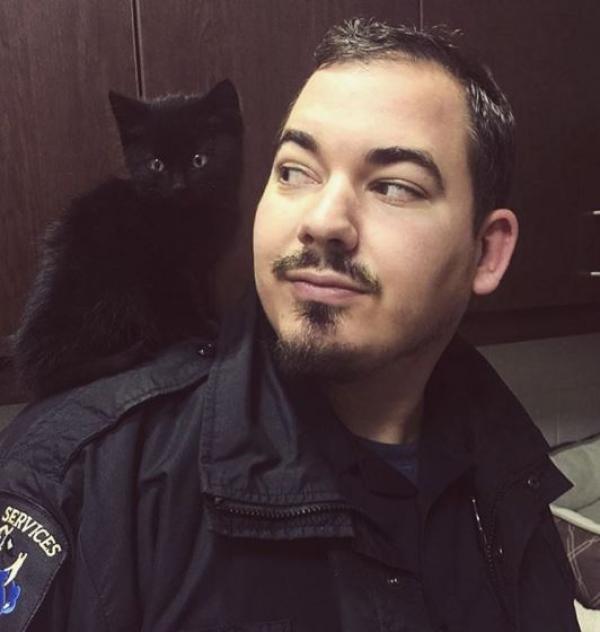 We all know it's not unusual to find love at an animal shelter. Usually it's with an adoptable animal looking for a home. That's part of why Halo donates more than 1.5 million bowls of nutritious food to shelter animals every year to help those dogs and cats look and feel great, so they can put their best paw forward to help them find love. However, some people find more than animals who capture their hearts at an animal shelter. For Katherine Zenzano, her heart was captured at an animal shelter by a very special Animal Control Officer!
Katherine Zenzano knew she loved animals. It was why she was excited to start as the Assistant to the President and CEO of a large urban animal shelter. She was even prepared to fall in love with lots of fuzzy creatures. She didn't expect that the job would lead her to the love of her life and future spouse.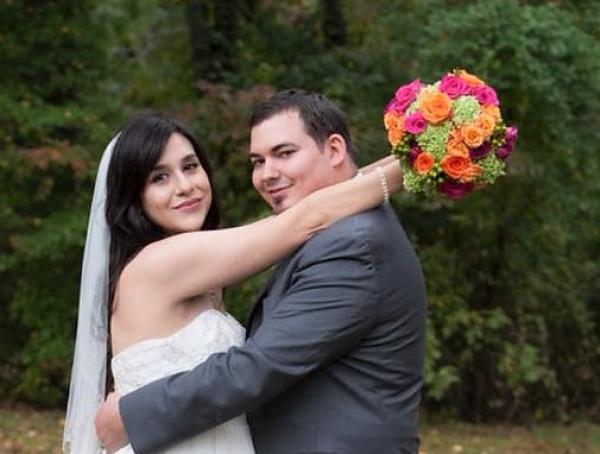 Shawn Covington was an Animal Control Officer for that same urban shelter. "I could tell that he was a hard worker and that it was on behalf of animals was very attractive," Katherine admitted about what first drew her to Shawn. Shawn also appreciated Katherine's care for animals. It made him want to know her better, plus, as he put it, "it also meant that we had something in common."
Katherine grew to love animal welfare. She eventually became a Behavior and Training Counselor as well as the Cat Behavior Manager for the always busy shelter. She also grew closer to Shawn. "When Shawn brought his two dogs, Tank and Beretta, two Boston Terriers, over to my house so I could meet them, " was a big day, according to Katherine. "I had already heard about Tank who certainly lived up to the name," she continued, "But Beretta was so tiny and cute and in a way it just…surprised me. Here was this big tough guy with this happy, prancing little dog. I do believe that sold me."
Dogs continued to be a big factor in their relationship. Not only did they integrate their pack, as it were, but the couple also fostered many animals together. Eventually Shawn proposed, while their dogs milled about, and Katherine said yes. She joked at the time that there was no better way to celebrate National Animal Control Officer Appreciation Week! While preparing for their wedding, they thought about their dogs. They didn't plan to have any of them at the ceremony to avoid stressing out the dogs or humans too much. However, Tank had other ideas.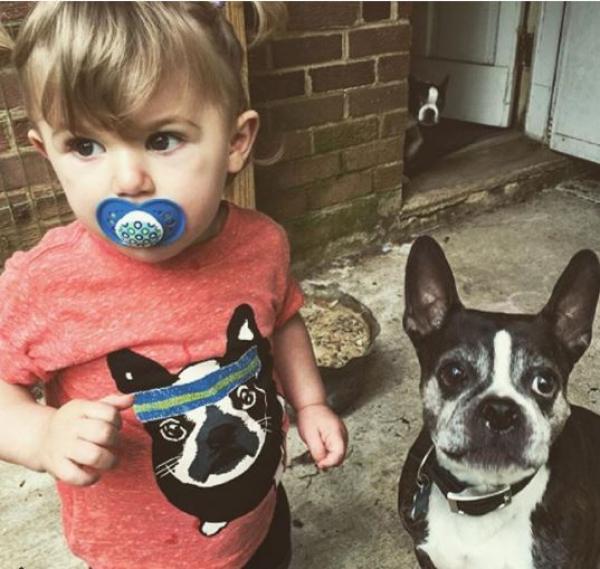 According to Katherine, "On the day of our wedding, Tank escaped through an open door and Shawn had to chase him to catch him. Shawn slipped and fell, and ripped his jeans, but eventually caught Tank." The couple discussed what was best and decided to change their plans slightly. "Our dog Tank was there for the wedding weekend, but only because we didn't want to risk that he get away from my dad who would be taking care of our dogs," she explained.
Now the couple has three dogs. "Little Bit is Katherine's other soul mate," shared Shawn. Little Bit "is a senior Terrier mix who loves to be near Katherine at all times. Tank is a troublemaker; he is the older male, Boston Terrier. He's always getting into something. Beretta is the sweetest and always needs to find the coziest spot to nestle in," Shawn continued. In addition to the dogs, the happy couple also has an adorable toddler daughter they say "definitely" shares her parents' love of animals. "Beretta is her favorite dog if we're naming favorites. And she loves having the foster kittens around and is very gentle and patient with them," said Katherine.
Katherine feels that dogs are a big part of why she and Shawn fell in love, telling us "I definitely credit our love for animals with bringing us together." Not everyone will meet their human soulmate at an animal shelter, but everyone can find an animal who needs their love. Who knows what else you'll find?