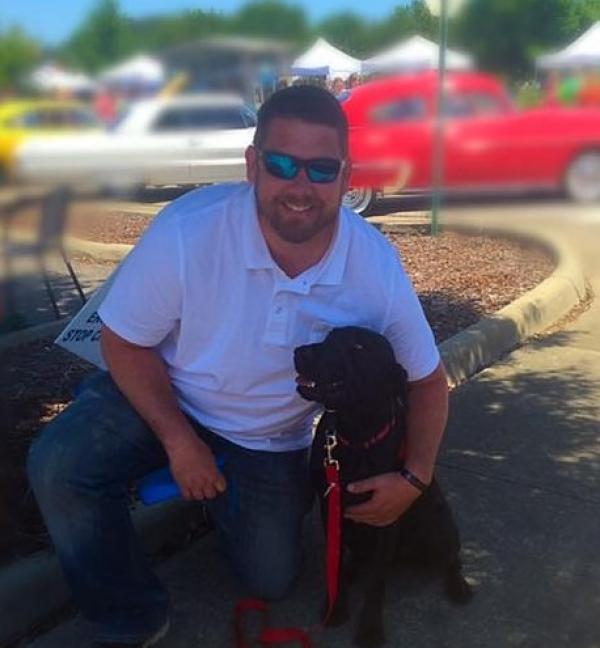 Retired Sergeant Jeremy Milwood, in Birmingham, Alabama is one of those soldiers who made it home but is still dealing with the aftereffects of his time in Iraq. Thankfully, his former-shelter-now-service dog, Daisy, helps Jeremy shoulder his burdens during the day and saves his life every night.
According to WBRC.com, Jeremy has Post Traumatic Stress Disorder (PTSD) from his time as an Army combat medic. His PTSD lead to terrible nightmares that would keep him awake for hours, as well as fear and anxiety that made it near impossible for him to be around large crowds, according to the Montgomery Advertiser.
Then a veterinarian told him about Service Dogs Alabama (SDA). SDA first pulls dogs from the Humane Society of Elmore County. Afterward, inmates at the Gadsden Correctional Institution in Florida train the dogs and receive rehabilitation themselves at the same time. Once trained, the dogs are given to veterans suffering from PTSD, as well as others who need service dogs. Thanks to you, Halo, GreaterGood.org, and Freekibble annually donate over 1.5 million bowls of Halo food to help shelter pets similar to the ones SDA chooses to help inmates and veterans.
Jeremy revealed to AL.com that he initially had some doubts, but Daisy completely demolished those. He shared that "when I got Daisy from SDA, it was like she just got me. In no time, I trusted her to watch my back. She always knew just what to do." He added, driving home his point, "Daisy saved my life." More than 20 veterans every day die from suicide and Jeremy believes that without Daisy, he would have been one of those 20. He told reporters, "When I came back, I had no one I felt I could trust. I was isolated. Before I got Daisy, I dreaded life."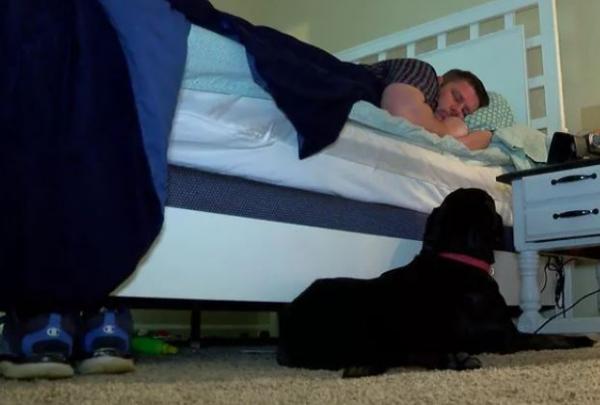 What gave him hope was his very first night with Daisy. That night, "she woke me up from a bad nightmare," Jeremy said, "and I slept better that first night with her than I had the entire time I was back from Iraq." Because of her training, Daisy will lick Jeremy's hand or face if she sees him twitching in bed. This wakes Jeremy up before his nightmare can take him to a deep place of trauma. Being peacefully woken up by Daisy allows Jeremy to go back to sleep in peace. Daisy is Jeremy's constant companion.
Now Jeremy is even able to go to fairs and stores that his PTSD had made off limits before. "When you get back, you don't have that unconditional camaraderie but a dog, it's always there; unconditional[ly] she's always there for me," Jeremy clarified/ "Daisy and I now go everywhere. Nothing is off limits," he said.
Talking about his time before Daisy, Jeremy told reporters, "I just didn't know where to go. I didn't know what else to try. I tried all the medicines they'd throw at me," adding that Daisy "saved my life…She saves my life every single night.
Our pets may not save our lives on a regular basis like Daisy does for Jeremy, but they still do so much for us. Halo believes in doing everything we can for them, starting with food. Hopefully Daisy eats delicious nutritious bowls of high quality dog food with the occasional healthy treat to thank her for the many ways she saves Jeremy's life.