Climate change is already causing the weather patterns we thought we knew to change. What can you do as a responsible dog owner? Thankfully, quite a bit!
Most of us know that carbon is a major contributor to climate change. Jerry Melillo, an ecologist and a member of NOAA's Advisory Committee for the Sustained National Climate Assessment, told Energy News Network, "It's pretty clear that climate change is not going to stop and it will be accelerating if we don't move to a reduced carbon economy."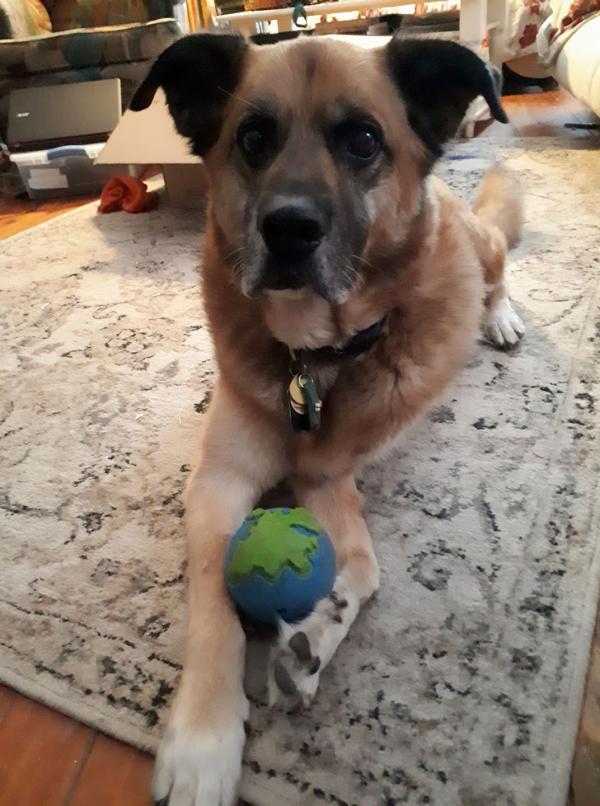 Many people enjoy reducing their carbon use through Meatless Mondays. Dogs can safely join in a family-wide Meatless Monday with Halo Holistic Garden of Vegan™ Dog Food kibbles or cans! Halo, GreaterGood.org, and Freekibble.com are even working with shelters to reduce their carbon paw print through Meatless Mondays for the shelter dogs! They're supplying both Halo Vegan and Halo Whole Meat food for the dogs in the care of Second Chance Animal Shelter in Massachusetts, Humane Society of Tampa Bay in Florida, and Dutchess County SPCA in New York. It's not good for animals to have one day with a completely different diet, so the dogs are achieving their Meatless Mondays by having 1/7thof their food each day be Halo Garden of Vegan™.
All three shelters have reported that the process is simple and making the dogs very happy. Sheryl Blancato, executive director for Second Chance Animal Shelter said, "We are excited about being part of Meatless Monday and the Halo food donation has helped save the lives of many animals. Since foregoing meat even one day per week has an impact on the environment, imagine the difference we can make with all of the dogs at an animal shelter going meatless on Monday!"
Dr. Jason Nicholas, the Chief Medical Officer at Preventive Vet, took the time to talk with us about how climate change might affect our pets. Dr. J, as he's generally known, is passionate about pet health and helping pet parents better understand their furry friends. He had some great advice for dog owners.
With warmer winters "the parasite seasons many people are used to or think exist are likely to change," Dr. J explained. "So, 'flea season' is likely to start earlier and end later, and there may also be 'unseasonal flares' due to changing weather patterns. The same is likely for 'tick season' and even 'intestinal worm season.'"
Climate change could also lead to more infectious diseases and mosquito-borne parasites. Mosquitos can easily spread diseases to dogs. "From a mosquito standpoint, changing weather patterns isn't just likely to mean longer and more erratic mosquito seasons, but it'll also mean that places that haven't historically had problems with disease-spreading mosquito populations are more likely to start having them," Dr J. told us, adding, "So everybody really should get and keep their guard up, as none of these infestations/infections are fun."
Thankfully, there are safe and effective steps you can take. You can help fight exposure by taking care of your yard. Dr. J. suggested preventing and removing standing water sources on your property, as well as looking into "using cedar chips or beneficial nematodes" in your yard to keep flea populations in check.
However, Dr. J. says talking with your veterinarian is the "biggest step" any pet parent should take in the face of these changing weather and parasite patterns. He suggests you ask about "the safest, most effective, and most comprehensive parasite prevention and treatment plan for all of the pets in [your] home." He advises that you regularly check your dogs for any signs of parasites – or even the parasites themselves. Look for fleas and flea dirt on your dog's skin and coat and definitely check for ticks. Dr. J. stressed that checking for this is especially important "after coming in from hikes or walks in the woods, camping trips," and other similar outdoor activities. You definitely want to keep your vet looped in, too, by having your veterinarian regularly check your dog's stool samples for worms.
Hotter weather can make heat stroke more likely. Dr. J recommends that you "know your dog and their risk factors for heat stroke." He explained that puppies, seniors, overweight dogs, brachycephalic dogs like pugs, and dogs who already have an existing respiratory condition are at increased risk of heat stroke. He suggested being cautious and avoiding "any walks or outdoor exercise in the heat of the day," suggesting that you "try for early morning and later evening when it's likely to be cooler." Not only will it be safer for your dogs, but likely more pleasant for you, too! In addition to the dangers of heat stroke from being outside, Dr. J. stressed to never leave your dog in a parked car "even if you leave them with water, leave the windows cracked, or will only be gone for five minutes." When in doubt, let your dog enjoy air conditioning in the safety of your home!
With an increased risk of severe or more frequent storms, pets and their pet parents also face more risks for floods, fires, or other natural disasters. Dr. J. told us, "people should definitely prepare an emergency/disaster kit for their pets." Dr. J explains on his site how to put together an emergency kit. You can also download Preventive Vet's Emergency and Disaster Prep eBook for free.  If you need additional ideas, Halo had a blog post about 7 Ways to Protect Your Pets in an Emergency only a few months ago.
We're a mission-driven brand, so we strive to do what's best for pets, people, and the planet. We're no stranger to praise for our eco-consciousness. In 2016 our Spot's Stew won in the Best Pet Products, Food category of the Natural Child World Eco Excellence Awards. We were also finalists in the supplements and treats categories
We don't do it for praise or awards though, we do it because it's right. Dave Carter, our Director of Sourcing, says in a Facebook video, "Nature's kind of messy. Nature creates things that…are unique and individual and the more we learn to work within that system, those animals are helping to restore the soil. They're helping to build a grassland that captures carbon and makes for a healthy ecosystem." He added, "We just think that when you go back to that natural, that OrigiNative™ source, you're getting a whole protein that's healthier for us and healthier for our companion animals."
Building a grassland that captures the carbon we've already released into the atmosphere is important for slowing climate change. So when you buy Halo pet food you're not only giving healthy food to your pet, you're also helping shelter animals as well as the earth. That's pretty awesome for buying a bag of dog food!