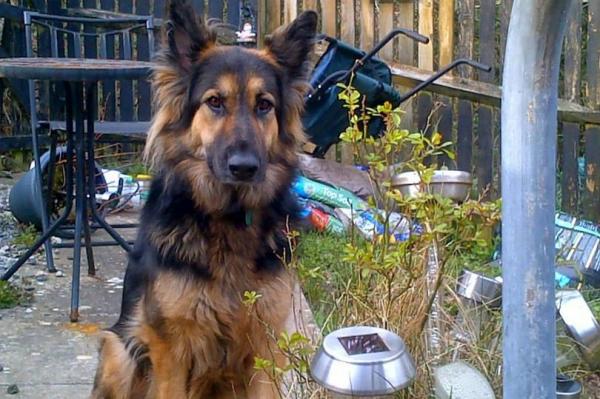 Sometimes the shyest dogs are the bravest. Cynder, a normally docile German Shepherd, saved her mom this spring when a man mugged her near their home!
Michelle Fowler was walking near her home in the city of Pymouth in Devon, England this March. Suddenly, a man approached from behind her. He insisted she give him her bag, then punched and kicked her. Michelle fell to the ground but managed to call for Cynder, her eight-year-old dog. Michelle later described Cynder to reporters as usually afraid of her own shadow, but that evening Cynder realized that Michelle needed her. The dog came running up, barking, and scaring off the attacker.
Although he managed to escape with Michelle's bag, Michelle was saved from further injury because of Cynder's quick response. In light of the incident, Michelle's fiancé is staying in her home and they have changed the locks on the house as a precaution. The real hero is Cynder – the dog who Michelle once rescued turned the tables and rescued Michelle in return.
At Halo we believe that every animal carries a halo that shines brightest when nurtured in a genuine, heartfelt, two-way, human-animal bond. It's obvious that Cynder's halo is shining bright after her heroic rescue of Michelle. Every year Halo, Greater Good, and Freekibble feed more than 1.5 million bowls of cat and dog food to rescue pets like Cynder every year. We've been told by shelter professionals that Halo food increases adoption rates. This means that more pups like Cynder will have a chance to unleash their inner hero for their adoptive families. Our pets do so much for us, Halo believes in doing everything we can for them, starting with high quality food. We're sure that Cynder is receiving a hero's reward of delicious food and treats from Michelle and her grateful family.