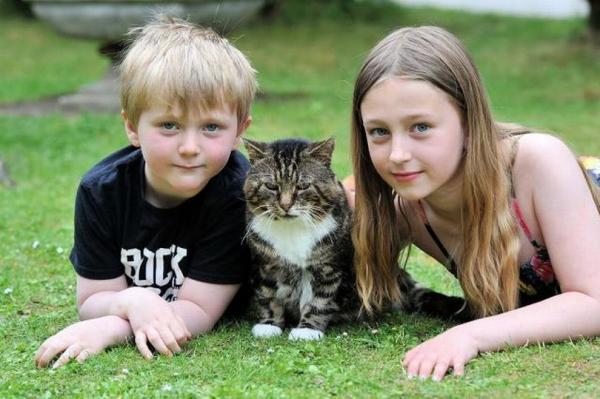 Some people say that you have to seek out destiny. It seems that for Daniel Kershaw, in the village of Bankfoot in Scotland, destiny came to him. One day a small, stray cat crawled into Daniel's house and changed his life.
Daniel told the Daily Record that he first met the cat who would change his life when the stray cat wandered into his home. The family wrote that the stray "was such a handsome boy" despite being in "a bedraggled state, with ticks on his face and matted fur." They shared that at first the cat, who they named Meatball, "would snarl at us and run away whenever we approached him." However, "after months of showing kindness to Meatball, including feeding him by lying down on the ground with a handful of wet cat food in my hand, we eventually gained his trust," they shared. Success! "Gradually we groomed him, wormed him, de-flead him, and cared for him until his eyes burned bright once more," they wrote of their early loving care for the former stray.
Daniel and his family decided to keep the cat and call him Meatball. He became a beloved member of the family who got on well with Daniel's kids, Jack and Sophie Kershaw.
In the U.K. it's normal for cats to be indoor/outdoor cats and Meatball was no exception, making full use of the cat flap in the door. That all went wrong on February 9. "Sadly one day he dragged himself through our cat flap using only his front paws after being hit by a car," Daniel said. "His back legs were in a bad way and he was crying out in pain," he further explained.
Daniel rushed the cat to a veterinarian. Daniel explained that they were informed that Meatball had a fractured pelvis and would also need one of his legs immediately amputated. There was only a 50% chance that Meatball would survive the expensive operation.
"We agreed to personally fund the £900 for the operation, as the only alternative was to put him to sleep, and no way were we going to let that happen" explained Daniel. The operation was successful and Meatball seemed okay with being a three-legged cat. Unfortunately, there was a problem. Meatball couldn't pass urine. It was likely due to pain and might pass on its own, but if not, Meatball would still need to be put down.
The Kershaw family was determined to give Meatball his best opportunity to heal. They took to social media and started a GoFundMe to ask for help funding a prolonged hospital stay. Soon, donations were coming in from all over the world. They wrote a heartfelt plea for help and shared a video of Meatball from the hospital, as well as photos of him in happier times.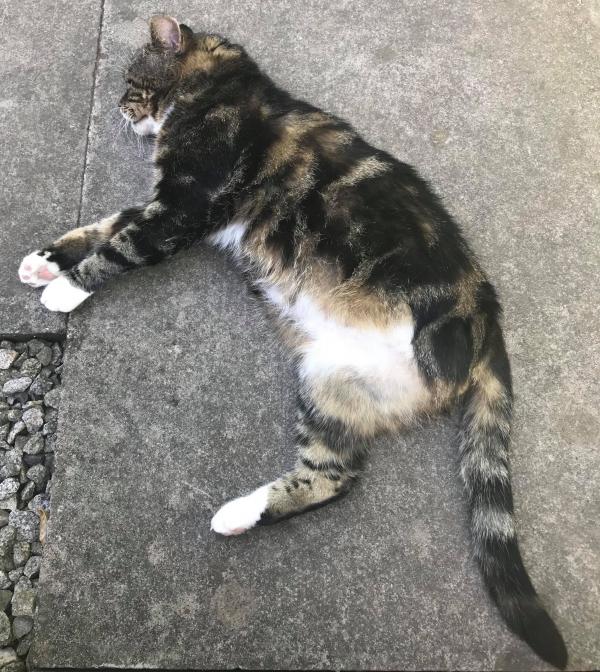 "Within no time at all we had raised enough to fund Meatball for three weeks of hospitalization, catheterization, and medication." The fundraiser brought in more than £1780 (more than $2,300) from people who wanted to help Meatball.
Over those three weeks, the family hoped and prayed for good news. "We never gave up hope on Meatball," Daniel told us. Unfortunately, Meatball still wasn't peeing. Finally, the family gave into what seemed to be inevitable and scheduled a date for Meatball to be gently put to sleep. They were determined to show Meatball how loved he was. They only considered euthanasia because they didn't want Meatball to suffer.
"On the eve of the deadline," said Daniel, "after exhausting all other options, we decided to bring him home and give him a special night with the family." He added, "and one last try to wee."
The family made sure Meatball had his favorite foods and a nice new comfy bed. Daniel spent the night lying beside Meatball on the living room floor. "I was hopeful until what we thought was his final few hours and he never let us down," Daniel said.
Shortly before Meatball's final vet appointment, Daniel went to fetch the key to their outdoor shed so that he could work on digging a grave.
Daniel described what happened. "Just as I opened the drawer, I noticed out of the corner of my eye that he had climbed onto his cat litter," he said. "Then," Daniel continued, "to my absolute astonishment and delight, he proceeded to do the biggest wee I have ever known a cat to do. We couldn't believe it. Our family had experienced a rollercoaster of emotions over the previous month and he kept us in suspense to the very end."
A few months later, Daniel tells us that "Meatball is doing very well." He added that Meatball "adapted extremely quickly [to] life on three legs and can move about pretty fast. Having a missing rear leg he does find it easier to go down stairs as opposed to up and jump down from things rather than up, but he's doing great."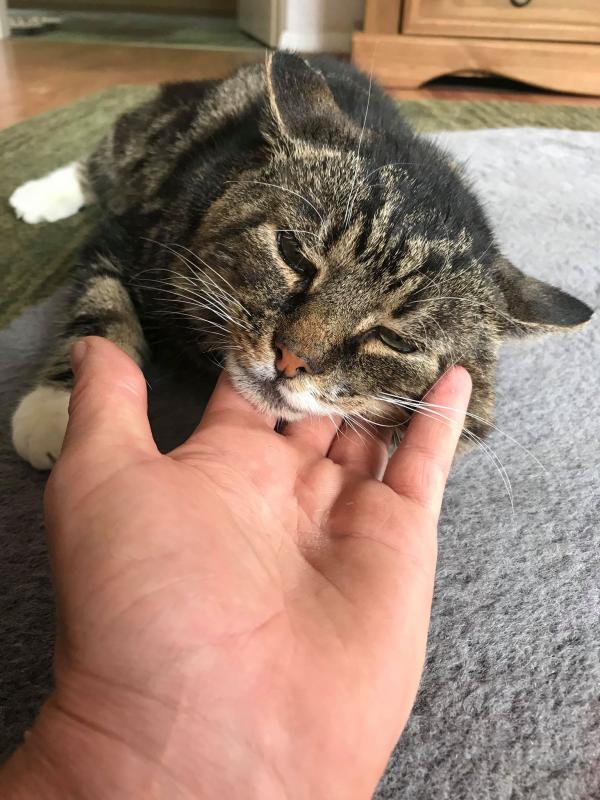 In fact, Meatball is still an integral part of the family. "He has a great bond with my children," said Daniel, "and they are very good with him." Meatball's favorite family activity might be surprising, "he loves to be involved in everything we are doing, especially board games and the such," revealed Daniel to us.
We're certain that Meatball is grateful for the global help that allowed his family to care for him in the hospital for so long, and especially for his family who never stopped hoping he would heal. We believe that every animal in our life carries a halo, and that those halos shine brightest when nurtured in a two-way bond. It's obvious that the halos above Meatball and the Kershaw family are shining extra bright because of their tremendous bond of love. That kind of bond is only further nurtured through healthy diets of healthy, nutritious food like Halo's cat foods.
At Halo, we're used to hearing about impressive poop, but we bet that a family was never more relieved to hear their cat pee than the Kershaw family was that fateful morning.