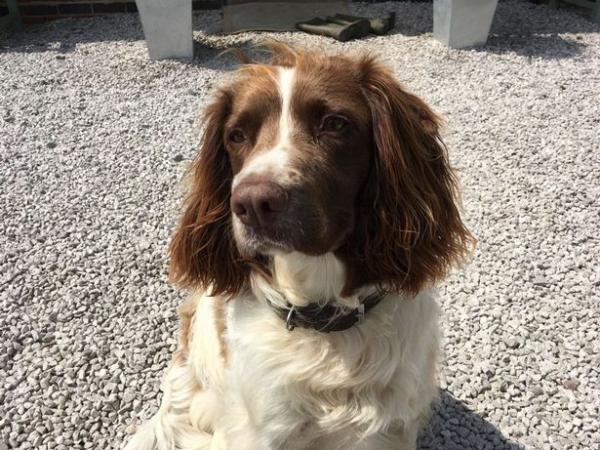 Fire is terrifying for any family, but especially for a farming family who must worry about all of their farm animals. The family at Challans Partners' Longcroft Farm is grateful that a fire only wrecked machinery and a barn recently, instead of people, calves, or a pregnant cow. The reason the fire didn't harm any people or animals on the farm in Derbyshire, England? A Springer Spaniel named Ted.
According to the Burton Mail, Ted jumped into action and alerted his family about the fire by loudly barking when the flames flared up from an electrical fault. It was around one in the morning when Ken Colwell, the farm secretary, heard Ted barking. Ken's wife, Ruth, then spotted the flames and immediately called emergency services.
Ken praised the fire responders, saying "The firefighters were extremely professional….They were absolutely first class." Because Ted made Ken and Ruth aware of the fire so quickly, the firefighters were able to protect two barns full of cows for the night, including calves and a pregnant cow. The wind that night was blowing the fire toward the barn where the calves had been resting. The fire was fully contained and out by shortly after four in the morning – barely three hours after Ted started barking the alarm.
Ken was grateful for his neighbors and told reporters, "I would also like to praise some of our neighbors who were actively on site offering assistance and support. We cannot thank them enough for their support."
Ken's partner at the farm is his brother in law, John Challans. Ken noted, "John and his wife Fiona, as well as Ruth, were mainly concerned about the animals….That is a huge testament to the good heart they have got and that is not to be underrated."
We love that the Challans and Colwells were more concerned with their animals than with buildings or machinery. Halo's mission is to not only make great cat food and dog food that pets love, but to change the way farm animals are raised for the better. We're conscious about how we source our ingredients. We work for changes in pursuit of a notion of animal husbandry that challenges the old, one-way view of animal management where animals are solely for our benefit.
We believe that we all need to take care of each other – people, animals, and planet. Every animal in our lives, not just cats and dogs, carries a halo above it. That halo shines brightest when nurtured in a genuine, heartfelt, two-way, human-animal bond. It's obvious from the priorities of the Challans and Colwells that their halos are shining brightly, just like that of their hero dog Ted. We hope Ted is getting lots of praise and healthy treats to reward his quick thinking and alert barking.